A Catalogue of Andrew Cuomo's Absurd Responses to the Percoco Verdict
Amid a flurry of negative headlines surrounding the Joe Percoco verdict, press-dodging Andrew Cuomo took to the cameras to distance himself from the man he once called the "third Cuomo son." Here are some of the more farcical defenses he proffered: Percoco's behavior was an "aberration" in his administration. Cuomo, speaking to reporters, addresses the […]
March 14, 2018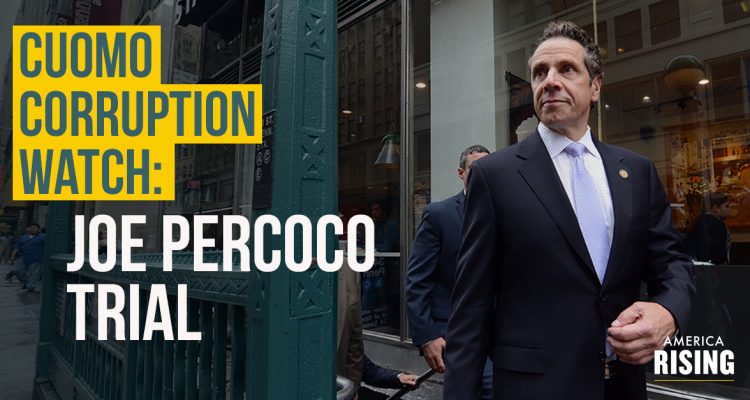 Amid a flurry of negative headlines surrounding the Joe Percoco verdict, press-dodging Andrew Cuomo took to the cameras to distance himself from the man he once called the "third Cuomo son." Here are some of the more farcical defenses he proffered:
Percoco's behavior was an "aberration" in his administration.
Cuomo, speaking to reporters, addresses the Percoco trial. He calls Percoco's behavior an "aberration" in his administration. He once called Percoco "my father's third son." pic.twitter.com/jYUXZNsxHI

— Grace Segers (@Grace_Segers) March 14, 2018
Cuomo is no stranger to accusations of corruption. In January 2017, The New York Times' Jesse McKinley said Cuomo's time in Albany "is nearly synonymous with corruption …"
First, let's start with the company he keeps. In May 2017, an FBI complaint alleged Cuomo ally Steve Pigeon –who was allowed to attend all of the top campaign strategy meetings – conspired to solicit a $25,000 contribution to Cuomo's campaign from a Montreal-based internet gambling company. The campaign never commented on whether or not they would return the donation. Pigeon has also since been indicted on other matters. In December 2017, he was indicted for felony election law charges. In June 2016, he was indicted on nine separate charges including bribery and extortion.
Cuomo also has significant ties to Glenwood Management, which paid a $200,000 penalty for its lobbying violations pertaining to two major state legislative corruption cases. Glenwood has contributed over $1.97 million to Cuomo's campaign and affiliated organizations.
His hiring practices have also proven to be questionable. In March 2017, as he began plotting his 2020 run, Cuomo announced 27 staff appointments, including 12 that worked in the Obama White House, the federal government, or a presidential campaign.
In April 2017, Cuomo promoted Melissa DeRosa to serve as his top aide, raising questions about potential conflicts of interest. DeRosa's father and brother work at an influential lobbying company and her husband is a public relations executive at Uber. Watchdog groups raised concerns about DeRosa's promotion.
In December 2017, The Times Union reported that "the FBI is investigating the Cuomo administration's practice of hiring employees to work in the governor's office, while actually paying them through various state agencies and public authorities …"
The Post-Star editorial board actually urged Cuomo to stop his hiring practices, which they described as a "fraud on taxpayers."
The "single best ethics reform" is a total ban on outside income for legislators and government workers.
. @NYGovCuomo on to say the "single best ethics reform" is a total ban on outside income for legislators and gvt. workers. But in the trial, the issue was #Percoco getting $ from developers while he was off payroll, then using his influence on their behalf.

— Yancey Roy (@YanceyRoy) March 14, 2018
The Percoco case involved transactions that occurred while off state payroll (and focused on influence-peddling instead), meaning that the very reform Cuomo suggested would not have prevented the criminal transactions that occurred on his watch. Moreover, Andrew Cuomo himself has benefited from outside income while serving as Governor of New York, receiving $783,000 from his memoir published in 2014.
Even more embarrassing, he was forced to immediately backtrack during the same press conference and give his blessing to Joe Lhota, his own MTA appointee, who has TWO other jobs in the private sector. According to Politico:
The man charged with fixing the subway system is even busier than previously disclosed.
In addition to his numerous other obligations, as of December, Metropolitan Transportation Authority Chairman Joe Lhota has been serving as a director on the board of the Madison Square Garden Company, according to documents filed with the Securities and Exchange Commission.
The Madison Square Garden Company, where Lhota once worked as an executive, controls Madison Square Garden, the entertainment venue that crouches atop Penn Station, which, in turn, houses the MTA's Long Island Rail Road Manhattan terminal and two subway stations. Last year, it paid its directors more than $150,000 each, according to its public filings.
The government office under scrutiny in the trial was probably used for "transition work."
Cuomo says he believes Percoco kept using his gov't office in Manhattan after he left the state payroll "to do transition work.''

— Tom Precious (@TomPreciousALB) March 14, 2018
"Transition work." Is that what they're calling it these days?
According to the Times Union:
Gov. Andrew Cuomo said Wednesday that he believed his former top aide and confidant Joe Percoco was doing "transition work" whenever he would return to the Executive Chamber's midtown Manhattan office during the eight-month period in 2014 when Percoco was serving as campaign manager for Cuomo's first re-election effort. …
It's actually a violation of state public officers law, as reported in January by the Times Union and noted in complaints subsequently filed by state GOP Chairman Ed Cox. …
Based on evidence presented at Percoco's trial, Cuomo must have been impressed with the sheer extent of the transition work he was getting from his campaign manager: As the New York Times reported, prosecutors presented evidence that from May 1 to Dec. 7, 2014, 837 calls, made over 68 days, were placed from the telephone on the desk that Percoco used at Cuomo's suite of offices at 633 Third Avenue.
Keep tabs on the Democrats. Sign up for news.
Keep tabs on the Democrats. Sign up for news.