America Rising PAC Launches Biden Accountability Initiative
The initiative will fight back against the Biden Administration's far-left policies.
December 2, 2020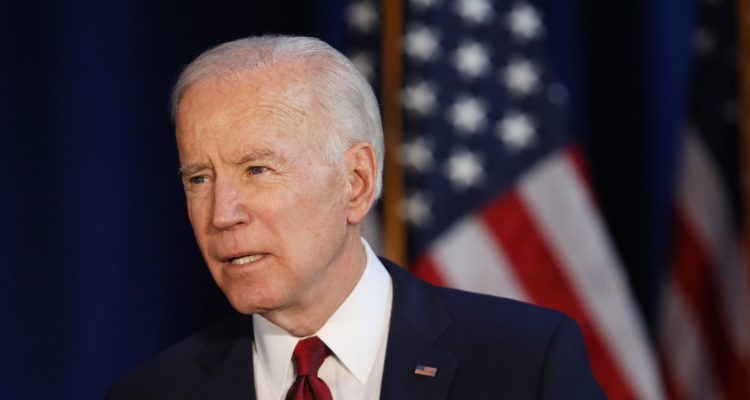 America Rising PAC is launching the Biden Accountability Initiative, a full-scale effort to fight back against Joe Biden's liberal agenda, appointments, and policies. With access to more than 3,000 pages of opposition research on Biden and two years of tracking him on the campaign trail, America Rising will be a leading voice in scrutinizing every decision his administration makes.
"We will utilize every resource at our disposal to counter the Biden administration's far-left policies. The Biden Accountability Initiative will serve as a bulwark against what Joe Biden himself described as the most progressive administration in our nation's history." – America Rising PAC Communications Director Chris Martin
During the 2020 election cycle, America Rising built out research on Joe Biden's 40-plus years spent in Washington, D.C. This work included comprehensive examinations of his policies and proposals, property records and FEC filings, paid speaking contracts, sources of Biden's increased wealth since leaving office, and donations from lobbyists and special interest groups.
The Biden Accountability Initiative will also deploy America Rising's unparalleled war room and rapid response operations. These efforts will include expanding communications staff and monitoring all of Joe Biden's speeches, events, and Senate confirmation hearings for his Cabinet and administration appointments. War room and video tracking teams will shadow Biden and members of his team at public events, asking pointed questions and monitoring media appearances across all available platforms.
The foundation laid during the 2020 election cycle will set the course for holding the Biden Administration accountable for the next four years. Research efforts will include:
Compiling vetting documents on all Cabinet and high-level Biden administration nominees and appointments
Analyzing Biden's policy proposals
Running an aggressive FOIA campaign
Monitoring donor interactions with the Biden administration for potential ethical violations, including with businesses owned by members of the Biden family
Read the coverage in Politico's Transition Playbook.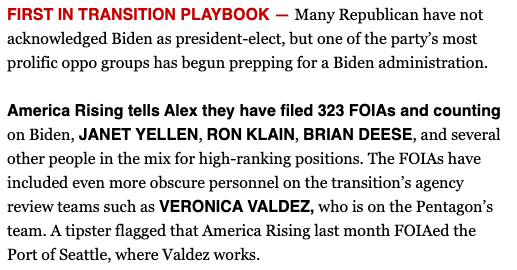 Keep tabs on the Democrats. Sign up for news.
Keep tabs on the Democrats. Sign up for news.