Andrew Cuomo's Self-Serving Silence On The Percoco Trial
For weeks now, Governor Andrew Cuomo and his administration have faced a barrage of awful headlines because of the corruption trial of Joe Percoco. As America Rising PAC's new website, thirdcuomoson.com highlights, the trial has exposed serious ethical lapses throughout his administration. Politico highlighted last night that there have been many developments that Governor Cuomo […]
February 9, 2018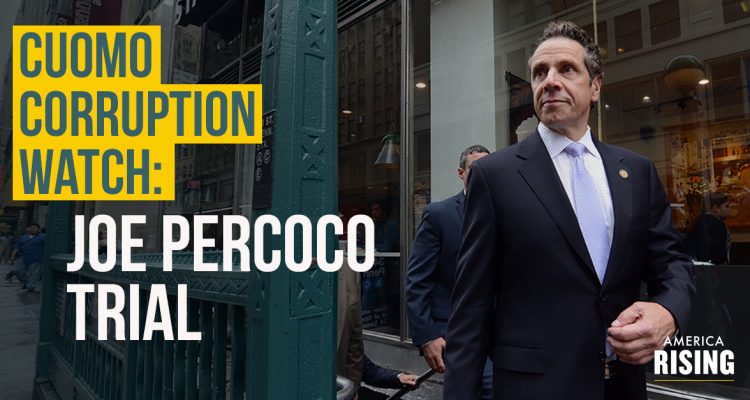 For weeks now, Governor Andrew Cuomo and his administration have faced a barrage of awful headlines because of the corruption trial of Joe Percoco. As America Rising PAC's new website, thirdcuomoson.com highlights, the trial has exposed serious ethical lapses throughout his administration. Politico highlighted last night that there have been many developments that Governor Cuomo owes New Yorkers an answer on:
The governor was asked about testimony that administration aides felt threatened if they tried to leave the Executive Chamber for other jobs. The trial has also included revelations that Percoco used his state office in Manhattan while he was off the payroll in 2014 managing Cuomo's reelection bid — and at the same time, taking payments from companies that are now accused of bribing him for official help.
Yet, even with these devastating developments, Governor Cuomo still refuses to answer questions related to the trial:
Gov. Andrew Cuomo still wouldn't respond to questions Thursday arising from testimony in the federal trial of a top confidante, even as a political opponent challenged him to "man up" and do so.
Governor Cuomo's silence only accentuates how closely connected he was to Percoco. As November draws closer, Governor Cuomo's unwillingness to speak about the culture of corruption within his administration will only drive voters further against him.
Keep tabs on the Democrats. Sign up for news.
Keep tabs on the Democrats. Sign up for news.