Bernie Sanders Proposes Doubling Federal Spending, Would Require Significant Tax Increases on the Middle Class
Facing little questioning, Sanders proposes largest spending increase of any presidential candidate in history.
January 14, 2020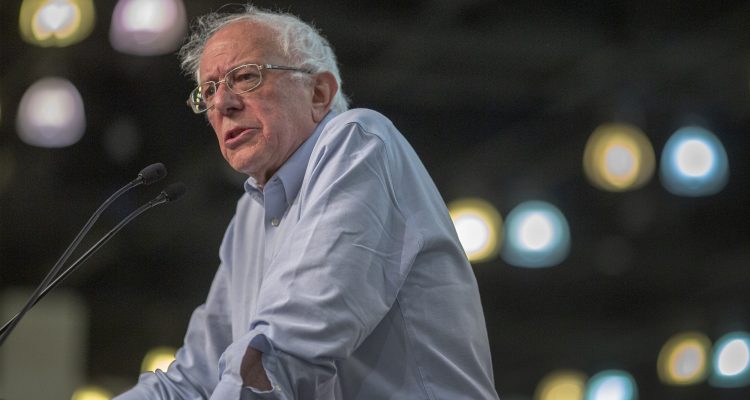 Bernie Sanders has proposed an unprecedented increase in federal spending as part of his campaign for President. The analysis examined by Ronald Brownstein of CNN shows that Sanders would increase government spending as a share of the economy by far more than any serious Democratic candidate in history. 

CNN: "Sanders' plan, though all of its costs cannot be precisely quantified, would increase government spending as a share of the economy far more than the New Deal under President Franklin Roosevelt, the Great Society under Lyndon Johnson or the agenda proposed by any recent Democratic presidential nominee, including liberal George McGovern in 1972"

While Sanders's plans have not been fully quantified by the campaign or outside experts, projections estimate that Sanders would add roughly $60 trillion in new spending over the next ten years. Such a plan would be costly to the economy according to Mark Zandi, the chief economist at Moody's Analytics.

CNN: "The economy's long-term growth would likely be somewhat diminished by these policies," said Zandi, who has provided economic analysis for presidential candidates in both parties, including Hillary Clinton, Barack Obama and John McCain. "Most significantly, they would raise businesses' cost of capital, reduce investment and thus weigh on productivity and overall economic growth."

Brownstein appeared on CNN this morning to talk about Sanders's plans.

What They're Saying:
Larry Summers: "On the spending side, … this is far more radical than all previous presidencies, on either the right or the left," Summers said in an interview. "The Sanders spending increase is roughly 2.5 times the size of the New Deal and the estimated fiscal impact of George McGovern's campaign proposals. This is six times as large of a growth of government than any of the Ronald Reagan dismemberments. We are in a kind of new era of radical proposal."

Maya MacGuineas, Committee for A Responsible Federal Budget: "'We are literally talking about increases in government spending that would double the size of government as a share of gross domestic product,' says MacGuineas, whose group is completing a detailed analysis of the Democratic candidates' agendas. She added: 'It is remarkable how little attention such a huge change has gotten.'"

"There is nowhere near enough resources that you can credibly collect to pay for spending of this size [from the rich]," agrees MacGuineas. "When you are talking about a doubling in the size of the government, you are talking about significant tax increases on the middle class."
Jim Kessler, Third Way: "I think if the price tag for the Sanders agenda was [better] known … voters would blanch — even Democratic primary voters would blanch," said Jim Kessler, executive vice president for policy at Third Way, a centrist Democratic group. "The truth of the matter is in primary elections both in 2016 and so far in this one, he's allowed to skate. He gets graded on a curve. But if he were the nominee, the curve is over. The Republicans will spend a billion dollars picking apart every one of his plans."
Keep tabs on the Democrats. Sign up for news.
Keep tabs on the Democrats. Sign up for news.