August 21, 2017
Delusional Bernie Says Single-Payer Is Good For Business Community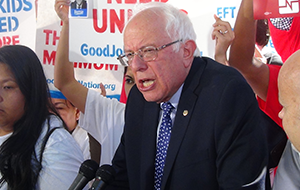 During Senator Bernie Sanders' (I-VT) decades-long career he's said some crazy things. But perhaps nothing compares to the claims Vermont's socialist Senator made in a new op-ed in Fortune about his single-payer plan. In support of his forthcoming plan, Sanders actually makes the argument that his Medicare-for-All plan would benefit the business community:
"Let's be clear. Not only is our dysfunctional health care system causing unnecessary suffering and financial stress for millions of low- and middle-income families, it is also having a very negative impact on our economy and the business community—especially small- and medium-sized companies. Private businesses spent $637 billion on private health insurance in 2015 and are projected to spend $1.059 trillion in 2025."
The dubious nature of Sanders' claim is exposed when you look at the cost estimates of his presidential campaign's single-payer plan. Last year, the Health Policy Center estimated that Sanders' plan would "cost the government an additional $32 trillion to what it pays now":
"The center had already estimated that Sanders' tax plan alone would add $15.3 trillion in revenue over 10 years. What happens to that big bump in revenue? The main expense: Sanders' health care plan. The Health Policy Center (like TPC, a project of the Urban Institute, a D.C. think tank) estimated that Sanders' health proposal would cost the government an additional $32 trillion to what it pays now."
With that single fact, any notion that Sanders' extreme plans would benefit business owners is absurd on its face. Only a socialist like Bernie Sanders could think that all the new taxes on the backs of the business community would be sound economic policy. Sanders' far-left plans might help position himself for 2020, but it's crystal clear they'd be catastrophic for the United States economy.