Democrats Crash and Burn in Debates
Debates are forcing Democrats to defend their failed records and revealing how incompetent they are at managing the issues most important to voters.
October 26, 2022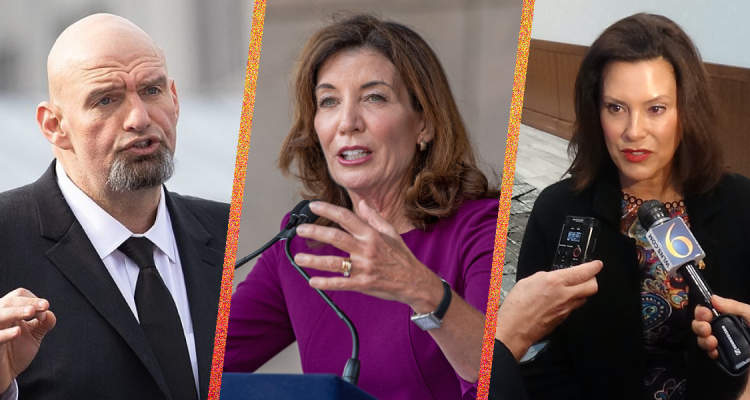 In debates across the country, Democrats downplayed, ignored, or misled about their extremism and their failures to address the issues most important to voters. In races for the House, the Senate, and governorships, Democrats offered voters more of the same on inflation, crime and the border.

During the Pennsylvania senate debate, Dr. Mehment Oz pressed John Fetterman on his radical soft-on-crime record. Fetterman voted to release 13 convicted murderers, and crime skyrocketed in Braddock during his time as mayor. Fetterman also could not explain his flip flop on fracking and would not say if he still supported Bernie Sanders' extreme Medicare for All proposal.
In New York, Republican Lee Zeldin blamed Democrats' progressive criminal justice reforms for the stunning increase in violent crime. Kathy Hochul responded by saying she didn't know why it was "so important" to keep criminals in jail.

Kathy Hochul's response to me tonight when I spoke about how we need to lock up criminals:

"I don't know why that's so important to you"?

NYers are getting beaten, slashed, stabbed, and pushed in front of subway cars every day, yet @KathyHochul still can't address crime in NY. pic.twitter.com/rXvGH6XuKd

— Lee Zeldin (@leezeldin) October 26, 2022
Zeldin also pressed Hochul on her administration's pay-to-play schemes that funnels tax dollars to her campaign donors.

New York Times: In particular, Mr. Zeldin referenced a $637 million contract that the state awarded in December to Digital Gadgets, a New Jersey-based company, for 52 million at-home coronavirus tests. The founder of the company, Charlie Tebele, and his family have given more than $290,000 to Ms. Hochul's campaign and hosted fund-raisers for the governor.

The Times Union of Albany has reported that the company charged the state about $12.25 per test, similar to the retail price for many tests, and that the company did not go through a competitive bidding process.

"So what New Yorkers want to know is what specific measures are you pledging to deal with the pay-to-play corruption that is plaguing you and your administration?" Mr. Zeldin asked.
The gubernatorial debate in Michigan focused on the economy and learning losses caused by school closures. Michigan has struggled under Gretchen Whitmer and costs have skyrocketed. There are still 82,000 fewer jobs in Michigan than when she took office. Her proposals to shut down the Line 5 pipeline and increase gas taxes would send energy costs even higher.

New data revealed the extent of the damage Whitmer's school shutdowns caused. Math and reading scores slipped more than the national average. The effects on low-income and other disadvantaged students were even worse.

In Kansas' third congressional district, the biggest debate moment centered on Sharice Davids' refusal to address the southern border crisis. Davids would not say if the border is secure, even though a record-shattering 2.7 million immigrants illegally entered the country in fiscal year 2022.

Moderator: "Yes or no, is the border secure now?"

Rep. Sharice Davids: "I, I think we need to continue to make investments to ensure that we are…uh…addressing issues that are coming up down there." pic.twitter.com/mPtDU1YmaK

— America Rising (@AmericaRising) October 26, 2022
Michael Bennet's record of almost always supporting Joe Biden's reckless policies — that fueled inflation and created the border crisis — was the focal point of the senate debate in Colorado. Bennet, who votes with Biden 98 percent of the time, denied being a "rubber stamp" for the president.

Michael Bennet says he's not a rubber stamp for Joe Biden.

Bennet is Biden's yes-man. He votes with Biden 98% of the time. pic.twitter.com/ujIJpE4IMw

— Joe O'Dea (@ODeaForColorado) October 26, 2022
Bottom Line: Debates are forcing Democrats to defend their failed records and revealing how incompetent they are at managing the issues most important to voters.

Keep tabs on the Democrats. Sign up for news.
Keep tabs on the Democrats. Sign up for news.