June 7, 2018
Dems Don't Want To Talk About Bill Clinton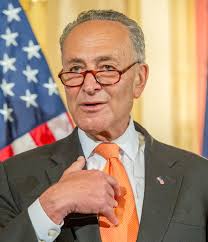 Senate Minority Leader Chuck Schumer refused to comment on Bill Clinton's recent controversial remarks showing a lack of remorse for his treatment of Monica Lewinsky.
Senator Claire McCaskill, another vocal #MeToo supporter, also dodged the question following the comments:
Free Beacon: McCaskill Avoids Answering Question About Bill Clinton: 'I Have Spoken Enough About That Topic'
Bill Clinton has since revised his answer but the dodges by Democrats are sending a clear message. They don't want to talk about the Clintons and are continuing to suggest they stay home this cycle and the cycle after that and after that….