Devastatingly Bad Marks For Bob Casey And Tom Wolf In New Poll
Both Senator Bob Casey (D-PA) and Governor Tom Wolf (D-PA) are up for re-election next year. But according to a new poll conducted for WHTM, Pennsylvania voters, of all political stripes, would much rather they not bother. According to the new poll, just 27% of all Pennsylvania voters think Senator Casey "has done his job […]
October 10, 2017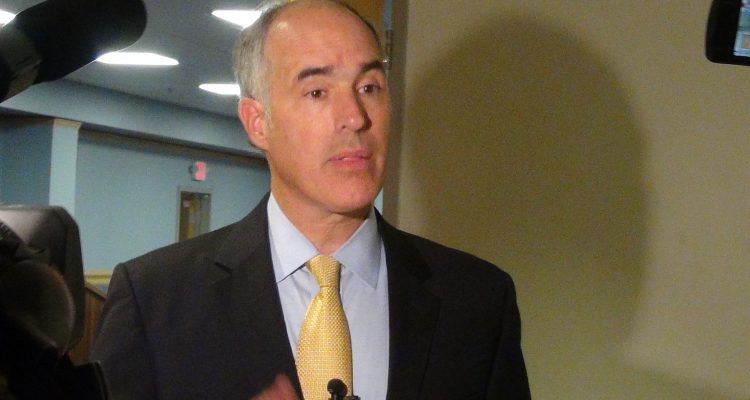 Both Senator Bob Casey (D-PA) and Governor Tom Wolf (D-PA) are up for re-election next year. But according to a new poll conducted for WHTM, Pennsylvania voters, of all political stripes, would much rather they not bother.
According to the new poll, just 27% of all Pennsylvania voters think Senator Casey "has done his job as United State Senator well enough to deserve reelection," while 46% would rather "give a new person a chance." Governor Wolf's poll numbers are almost equally abysmal, with just 35% saying he deserves re-election and 50% wanting a new governor.
These awful poll numbers are particularly worrisome for Senator Casey because he spent the last year attempting to transform his political image. With the rise of the Bernie-loving, resist wing of the Democratic Party, Senator Casey has tried to position himself as an ally of that movement. He's done so by taking $10,000 from Elizabeth Warren, while "discovering his inner firebrand":
"Sen. Bob Casey is known as easygoing and open to bipartisanship. But as the liberal base grows increasingly restive, the Pennsylvania Democrat is discovering his inner firebrand. Casey never raised his voice before the 700 constituents who turned out Sunday for his first in a series of town hall meetings — but he didn't need to in order to send a message to the largely liberal audience. From fights over health care to the Supreme Court, Casey signaled that he's allying with the millions of protesters who have flooded the streets to resist President Donald Trump."
Senator Casey has also flip-flopped on key issues, even ones he once put at the very center of his first Senate campaign:
"Casey, the son of former Gov. Bob Casey Sr., won his Senate seat in 2006 by running on a pro-gun, pro-life platform. Now, he's been described as 'an evangelist' for gun control… Last week, Casey — though he personally opposes abortion — held a press conference at a Planned Parenthood location in Upper Darby to tout his efforts to protect federal funding for women's health services."
This year, Senator Casey bet big that voters wanted a more liberal Senator in DC. As the WHTM poll shows though, Pennsylvania is completely rejecting the new, but definitely not improved, Senator Casey.
Keep tabs on the Democrats. Sign up for news.
Keep tabs on the Democrats. Sign up for news.