Disgusting: Nancy Pelosi Puts Political Gains Above Giving The American People Tax Reform
There's no denying that after eight years in the Obama economy, hardworking Americans could use tax reform. Consequently, all Americans should be infuriated with House Minority Leader Nancy Pelosi's statements. According to Politico, Leader Pelosi told House Democrats privately that they shouldn't work with Republicans to pass bipartisan tax reform because the failure of tax […]
October 25, 2017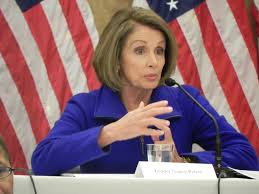 There's no denying that after eight years in the Obama economy, hardworking Americans could use tax reform. Consequently, all Americans should be infuriated with House Minority Leader Nancy Pelosi's statements. According to Politico, Leader Pelosi told House Democrats privately that they shouldn't work with Republicans to pass bipartisan tax reform because the failure of tax reform could benefit Democrats politically:
"House Democrats have spent weeks publicly lambasting Republicans for trying to muscle through a partisan tax overhaul. But privately, Democratic leaders have no intention of engaging with Republicans even if they offered, sources close to them say. House Minority Leader Nancy Pelosi (D-Calif.) is convinced another GOP crash-and-burn would likely hand Democrats the House next year, so there's no political upside to playing ball."
Pelosi's desire to play politics with the livelihoods of millions of Americans is disgusting. Dozens of House Democrats have already shown that they know that Pelosi's leadership has been disastrous. After these comments, all House Democrats need to stand up to Pelosi and say that helping the American people is more important than the political prospects of the Democratic Party.
Keep tabs on the Democrats. Sign up for news.
Keep tabs on the Democrats. Sign up for news.