Elizabeth Warren: No One Can Profit from Locking People Up, Except Me
Warren says no one should profit from locking people up, but she has financially benefitted from private prisons in the past.
September 27, 2019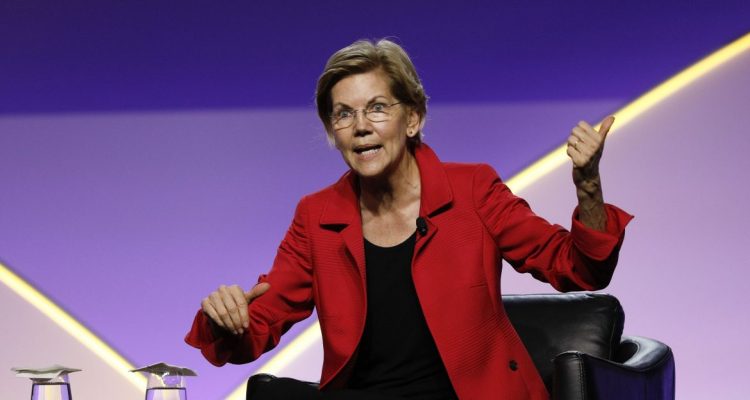 Elizabeth Warren went on a long rant at her rally at Washington Square Park in New York City about the supposed evils of private prisons, saying "no one should make a profit locking people up, and no one should have a financial incentive to lobby congress to lock up even more people."
…Well, Warren is financially benefiting herself from investments in private prison companies. The Washington Free Beacon reports that Warren has invested in funds that own a high amount of shares in private prison companies.
Washington Free Beacon: "The Massachusetts senator invested up to $50,000 in a Vanguard Group fund that owned hundreds of millions of dollars worth of shares in leading private prison companies. Warren sold her stakes in that fund in exchange for a different retirement account in 2013. At the time, the fund was the largest shareholder of America's largest private prison corporation."
Warren's insistence that she has a plan for everything has been central to her campaign message, even if those plans are vague and ignore basic realities. Her Medium post announcing a proposal to end private prisons included the same 'no profit' line as her speech in New York City.
It's not as easy as Warren makes it out to be, though. As the Daily Caller reported, many of the 2020 candidates who have called for an end to private prisons represent states that rely on private prisons to alleviate overcrowding in state facilities.
Until then, Warren will have to answer why she cant back up her own strong rhetoric. She'll also have to answer questions from the left whether she really is a leader of a revolution, or just someone who has come to co-opt the movement Bernie Sanders has created as she fights to win the Democratic primary.
Keep tabs on the Democrats. Sign up for news.
Keep tabs on the Democrats. Sign up for news.