Ellison Considers Dumping DNC Role Amid Domestic Abuse Allegations
DNC Deputy Chairman and Minnesota Attorney General candidate Keith Ellison told WCCO's David Lee in an interview yesterday that he is considering leaving his role with the DNC: The admission comes on the heels of a domestic abuse allegations from ex-girlfriend, Karen Monahan, who Ellison claims is making these allegations because she is "jealous" of […]
October 4, 2018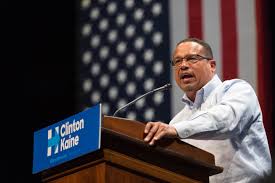 DNC Deputy Chairman and Minnesota Attorney General candidate Keith Ellison told WCCO's David Lee in an interview yesterday that he is considering leaving his role with the DNC:
The admission comes on the heels of a domestic abuse allegations from ex-girlfriend, Karen Monahan, who Ellison claims is making these allegations because she is "jealous" of his new girlfriend. However, Ellison did admit to using derogatory language towards Monahan, as Fox News reported:
"Embattled U.S. Rep. Keith Ellison admitted calling ex-girlfriend Karen Monahan a "b—-" during a heated argument about finances."
A report conducted by lawyers hired by the Democratic party concluded Ellison was not guilty of any wrongdoing, while the Minneapolis Police Department said they won't investigate due to "conflict of interest."
Keep tabs on the Democrats. Sign up for news.
Keep tabs on the Democrats. Sign up for news.