Flashback Friday: Booker Tries to Play Both Sides of the Israeli-Palestinian Conflict
2020 hopeful Cory Booker is attempting the make amends with the Jewish community by announcing his support for the Israel Anti-Boycott Act. Booker citied the recent rise in anti-Semitism as the reason for his support. Flashback to August when he was pictured with Palestinian rights activists: Excited to be here at Netroots Nation talking with […]
November 2, 2018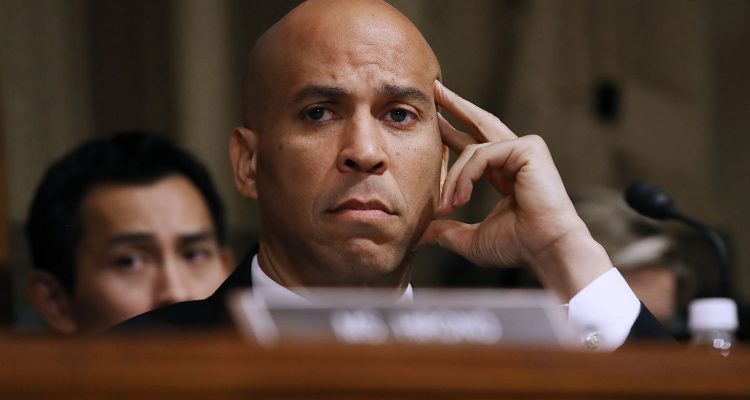 2020 hopeful Cory Booker is attempting the make amends with the Jewish community by announcing his support for the Israel Anti-Boycott Act. Booker citied the recent rise in anti-Semitism as the reason for his support.
Flashback to August when he was pictured with Palestinian rights activists:
Excited to be here at Netroots Nation talking with progressives like Sen. Cory Booker about our shared commitment to freedom, justice, and equality for all people. #NN18 pic.twitter.com/ljswLmv32w

— Palestinian Rights (@US_Campaign) August 3, 2018
This isn't the first time Booker has had to mend fences with the Jewish community. He angered many by initially opposing the Taylor Force Act, which aimed to end violence in the Gaza Strip and West Bank:
"U.S. Sen. Cory Booker, the biggest recipient of pro-Israel money when he ran for the Senate, disappointed many members of the pro-Israel community when he voted in support of the Iran nuclear deal. Now Booker (D-N.J.) again is going his own way on two other bills that have strong support among pro-Israel organizations."

"The bills in question are designed to block U.S. companies from declining to do business with Israel, especially by supporting the boycott, divestment and sanctions movement known as BDS; and to reduce funding for the Palestinian Authority until it cuts off payments to families of terrorists."
Leading up to a contentious 2020 primary, Booker wants to have it both ways by trying to stay on good terms with the Jewish community while appealing to the far-left progressives who support Palestine.
Keep tabs on the Democrats. Sign up for news.
Keep tabs on the Democrats. Sign up for news.