Gillibrand's Cozy Past with Wall Street Resurfaces in Ripping Off Bernie Sanders' Idea
As the race for 2020 heats up, two top contenders battle it out for credit over who's idea it was first to turn post offices into banks. New York Democratic Senator Kirsten Gillibrand introduced a bill today that would mandate every post office in the country also become a bank to "provide a low-cost alternative […]
April 25, 2018
As the race for 2020 heats up, two top contenders battle it out for credit over who's idea it was first to turn post offices into banks.
New York Democratic Senator Kirsten Gillibrand introduced a bill today that would mandate every post office in the country also become a bank to "provide a low-cost alternative to payday loans."
However, she was not the first one to come up with this idea. It was none other than Vermont Senator Bernie Sanders, who introduced a simliar bill back in 2015. And his office made it known it was his idea first: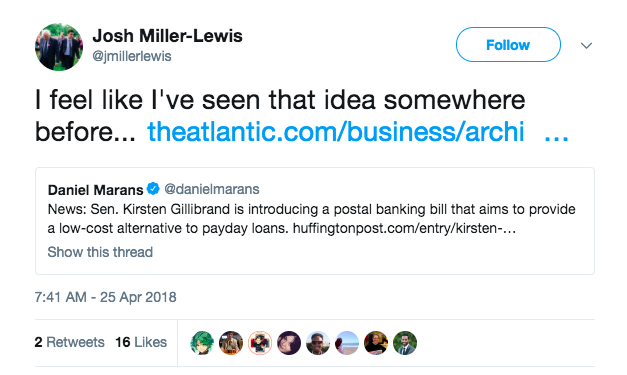 Gillibrand attempted to earn points from the left with this bill claiming:
"Literally the only person who is going to be against this is somebody who wants to protect payday lender profits."
Yet, she has taken nearly $30,000 from the payday lending industry.
While she may try, Gillibrand will never be able to fully rid her reputation as a "champion" of Wall Street.
Keep tabs on the Democrats. Sign up for news.
Keep tabs on the Democrats. Sign up for news.