Gina Raimondo: What You Need to Know
Rhode Island economy in 'tatters' as Raimondo faces criticism for leadership experience and progressive opposition to cabinet post.
January 26, 2021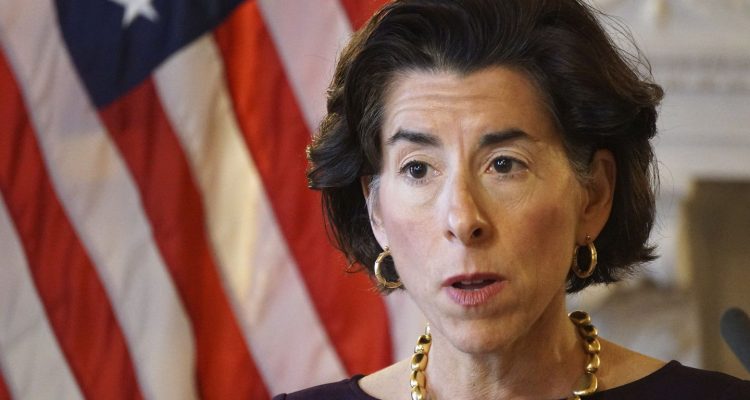 Raimondo has been rumored for numerous cabinet positions in the Biden Administration and faced intense opposition from progressive activists. 

New York Times: "A second candidate for the health position, Ms. Raimondo, faced resistance from labor leaders in her home state. At least two major unions, the public-sector giant Afscme [sic] and the American Federation of Teachers, expressed forceful opposition to Ms. Raimondo with the Biden transition team."

USA Today: "When Raimondo campaigned for reelection in 2018, she faced union opposition and a progressive challenger, who was supported by groups aligned with Sen. Bernie Sanders, I-Vt. The advocacy group Demand Progress opposed Raimondo's appointment to any Cabinet post, citing problems with state health insurance programs."

The Providence Journal: "Rhode Island's cities and towns are disputing the legality of a 50% cut by the Raimondo administration in a $12.4-million aid program for "distressed" communities, including 'some with the highest COVID-19 case rates in the state.' The administration put city and town leaders on notice that it was likely to go ahead with the cut that Gov. Gina Raimondo proposed to lawmakers in January."

New York Times: "In a Jan. 6 announcement, the Revolving Door Project and Demand Progress criticized Ms. Raimondo as a 'corporate insider' who locked in liability protection for businesses but stripped funding from low-income areas of Rhode Island during the pandemic."

Raimondo has faced criticism for a lack of management and technical experience that would be necessary for running a massive agency, including from a Bernie Sanders inspired primary challenger.

The New York Times: "Some critics have asked whether Ms. Raimondo has the technical background to devise and carry out a strategy to deal with technology challenges from China."

The Public's Radio: "Gov. Raimondo's office appeared taken by surprise this week when House Speaker Nicholas Mattiello cited what he called systemic management problems in the four agencies that make up the state Executive Office of Health and Human Services. 'I think we need to get some managers into these positions that have significant managerial skills to work on straightening out these departments,' Mattiello told reporters this week."

GoLocalProv: "'Raimondo's absenteeism and gross negligence have caused enormous harm to Rhode Islanders and cost the state millions. Just two months ago in April, we learned that the state has been unable to apply for $100 million in Medicaid reimbursements because of Raimondo's mismanagement. In May we learned that the Raimondo administration misled lawmakers about indicted call center leader Richard Noceto. Every month it's more scandal and mismanagement,' said Brown in a statement."
Rhode Island's economy is in 'tatters' and the pandemic has exposed how fragile the state's economy is as it failed to create stable jobs.

GoLocalProv: "Raimondo who prided herself on her economic record will leave the state in much the ways she found it — in economic tatters. The pandemic has hammered the Rhode Island economy and exposed Rhode Island's frailties."

GoLocalProv: "The structural problem that she inherited remains as she decamps to Washington,' said former Rhode Island Director of Administration Gary Sasse. '40% of new jobs were created in low wage industries, public schools continued to fail too many students, a game changer approach to innovation is not apparent and the pandemic has complicated the state's fiscal challenges.'"

CNBC: "But Rhode Island is also this year's [2019] bottom state for business in CNBC's 13th annual America's Top States for Business competitiveness ranking."

CNBC: "Rhode Island still has America's worst infrastructure. Half of the state's roads are in less than acceptable condition, according to U.S. Department of Transportation data. That is by far the worst in the country. More than 23% of the state's bridges are in poor condition, also the worst figure in the nation."
CNBC: "The state finishes near the bottom of the Economy category at No. 48. The state's gross domestic product grew by a paltry 0.6% in 2018, the third lowest in the nation."
Keep tabs on the Democrats. Sign up for news.
Keep tabs on the Democrats. Sign up for news.