Harris to Headline Stabenow Fundraiser Despite Disagreements
Tomorrow, Democratic Senator, and 2020 presidential hopeful, Kamala Harris will be the special guest at a fundraiser in Michigan for Senator Debbie Stabenow. Despite joining forces to raise money, the two senators have some major disagreements on key liberal polices: Single-Payer Health Care Harris is a co-sponsor of Bernie Sanders' single-payer Medicare For All Act […]
April 13, 2018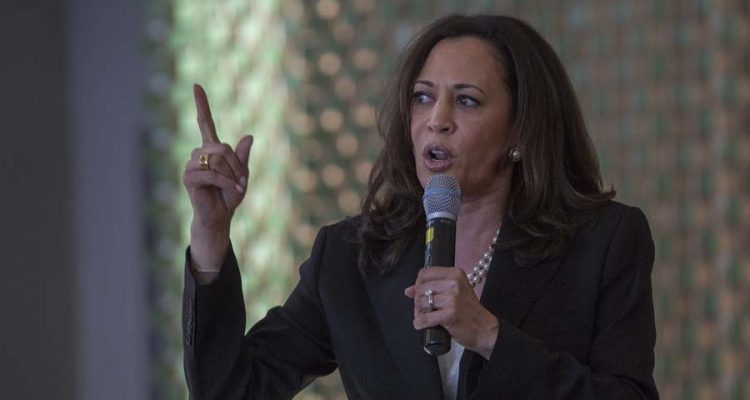 Tomorrow, Democratic Senator, and 2020 presidential hopeful, Kamala Harris will be the special guest at a fundraiser in Michigan for Senator Debbie Stabenow. Despite joining forces to raise money, the two senators have some major disagreements on key liberal polices:
Single-Payer Health Care
Harris is a co-sponsor of Bernie Sanders' single-payer Medicare For All Act and stated that the bill is "just the right thing to do." Stabenow, said she would support the bill, but has never signed on to co-sponsor the bill.
Free College Tuition
Kamala also was happy to support another Sanders' bill, the College for All Act.
"We have to stop burdening our students with outrageous amounts of debt… to address this issue, I am introducing legislation with Senator Bernie Sanders and my colleagues that will make public colleges and universities tuition-free for the vast majority of Americans."
Stabenow on the other hand, has not co-sponsored this legislation.
Bipartisan Immigration Reform
These two also voted opposite of each other on funding for a border wall and prohibiting the deportation of DACA recipients. Harris was just one of three Democrats who voted against this in the Senate, while Stabenow voted in favor.
Dodd-Frank Reforms
Kamala and Debbie were yet again held opposing viewpoints on the Economic Growth, Regulatory Relief, and Consumer Protection Act.
Kamala thought it would deregulate big banks: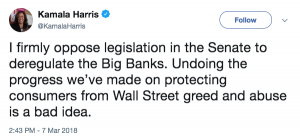 Debbie didn't think it weakened the protections: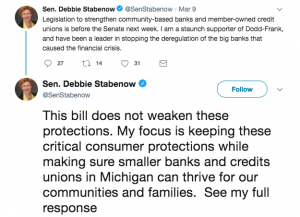 Government Shutdown
In January 2018, Harris voted to shut down the federal government over what she cited as "foolhardy" to believe McConnell made "any commitment whatsoever" on DACA. Stabenow voted to keep the lights on in the capitol.
As you can see, there are big differences between how these two voted. Stabenow will struggle to square Harris' far-left agenda with Michigan voters.
Keep tabs on the Democrats. Sign up for news.
Keep tabs on the Democrats. Sign up for news.