House Democratic Leaders Starting To Play Favorites In Crowded Primaries
The dynamics of the 2016 Democratic presidential primary, in which the establishment tipped the scales in favor of their chosen candidate, left well-entrenched ill-will within the Democratic Party. In a sign that Democratic leaders have learned nothing, they're seeking to replicate those conditions in numerous House primaries next year. According to McClatchy, three House Democratic […]
October 23, 2017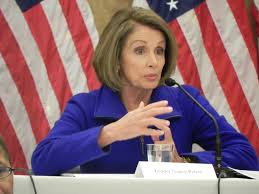 The dynamics of the 2016 Democratic presidential primary, in which the establishment tipped the scales in favor of their chosen candidate, left well-entrenched ill-will within the Democratic Party. In a sign that Democratic leaders have learned nothing, they're seeking to replicate those conditions in numerous House primaries next year. According to McClatchy, three House Democratic leaders, Nancy Pelosi, Steny Hoyer, and Ben Ray Lujan, have started donating to their chosen candidates in numerous competitive House primaries:
"Democratic leaders in the House are throwing money to their favored candidates in open primaries despite objections from a liberal base that wants the party's establishment class, after 2016's embarrassing defeat, to leave these choices to voters in 2018. Top House leaders and their political action committees have already cut big checks to candidates in a dozen primaries without a Democratic incumbent, part of a coordinated effort to boost certain challengers over their rivals. The favored candidates — including two who won the Democratic nomination in the district just last year — face primary opponents in nearly every case."
These donations have not gone unnoticed among far-left Democratic activists. One group, Justice Democrats, is clearly upset with these moves, saying it shows Democrats are "incapable of learning… the best lessons of 2016":
"'It's more of the same,' said Corbin Trent, spokesman for Justice Democrats, a group formed earlier this year that vows to defeat Democratic candidates it deems beholden to big business. It's the kind of liberal group that hopes to match the success that conservative grassroots groups had defeating the Republican establishment during the tea party wave of 2010, when activists propelled a handful candidates to victory over the objections of GOP leaders.' They're incapable of learning what I consider the best lessons of 2016,' Trent said of Democratic party leaders."
In addition to giving campaign cash to their preferential primary candidates, the DCCC has also said they're exploring the idea of directly backing candidates in crowded primaries. The backlash to the Democratic establishment picking favorites is only starting to develop, but it's clear that the Democratic civil war has become a permanent feature of internal Democratic politics.
Keep tabs on the Democrats. Sign up for news.
Keep tabs on the Democrats. Sign up for news.