In Interview, Bill de Blasio Comes Out Against Private Property, Andrew Cuomo
New York City Mayor Bill de Blasio has long been associated with the most extreme left-wing elements of the Democratic Party. Now he's going even further. In an interview with New York Magazine, Mayor de Blasio channeled Vladimir Lenin and Fidel Castro in his comments about private property. Answering a question on income inequality, Mayor […]
September 5, 2017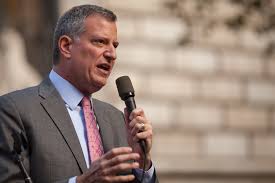 New York City Mayor Bill de Blasio has long been associated with the most extreme left-wing elements of the Democratic Party. Now he's going even further. In an interview with New York Magazine, Mayor de Blasio channeled Vladimir Lenin and Fidel Castro in his comments about private property. Answering a question on income inequality, Mayor de Blasio turned his attention to the ills of private property:
In 2013, you ran on reducing income inequality. Where has it been hardest to make progress? Wages, housing, schools?

What's been hardest is the way our legal system is structured to favor private property. I think people all over this city, of every background, would like to have the city government be able to determine which building goes where, how high it will be, who gets to live in it, what the rent will be. I think there's a socialistic impulse, which I hear every day, in every kind of community, that they would like things to be planned in accordance to their needs. And I would, too. Unfortunately, what stands in the way of that is hundreds of years of history that have elevated property rights and wealth to the point that that's the reality that calls the tune on a lot of development.
Elsewhere in the interview, Mayor de Blasio dodged four times on whether he'd support Governor Cuomo against a liberal primary challenge next year:
Are you open to supporting a progressive challenge to the governor next year?

I'm talking about this year.

Are you open to it?

I'm talking about this year. I'm in a mayoral election this year. That's what we're talking about.

So I'll take that as a yes.

No, you shouldn't take an answer like that as anything. I'm not talking about 2018 right now.

You're unwilling to commit to endorsing him.

No, I'm literally not willing to talk about 2018 right now. Period. So if you interpret it, that's not fair to your readers, with all due respect.
Not to be outdone, Governor Cuomo returned the favor, stating that he would not endorse in the New York Mayoral Democratic primary:
"Gov. Cuomo offered up a flimsy excuse Monday for refusing to endorse Mayor de Blasio in the upcoming Democratic primary — saying he lives in Westchester County and can't vote for a candidate. 'I don't vote in the primary election. I'm a Westchester resident,' Cuomo, whose home is in New Castle, told reporters at the West Indian-American Day Parade. 'I'm not voting in this election, so I don't have any primary endorsements at this time.'"
Mayor de Blasio has long been anti-capitalism. With his latest incendiary comments to New York Magazine, it's clear he's serious about challenging Bernie Sanders in 2020 for the title of most out-of-touch leftist running for president.
Keep tabs on the Democrats. Sign up for news.
Keep tabs on the Democrats. Sign up for news.