Is Kamala Harris Tough on Big Banks? Her Record Says No.
Harris's enforcement is considered by experts as "very impressive politically," but "we don't really know ultimately if she moved the needle."
May 13, 2019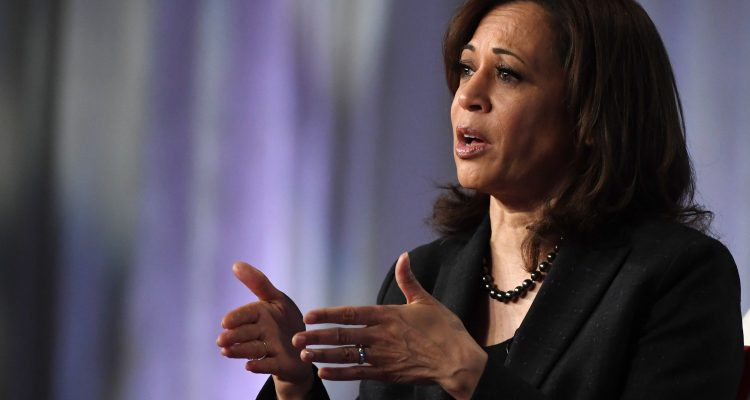 Kamala Harris has recently hit the reset button on her Presidential campaign after lackluster poll numbers, ineffective messaging, and a few questionable moments. Going forward, Harris is planning to lean on her tenure as a "progressive prosecutor" in San Francisco and as California's State Attorney General. This experience, the campaign is hoping, would put Harris in a position to take on President Trump directly in ways no other candidate in the Democratic primary can.

However, there is a lot more depth to Kamala's record as Attorney General than what the campaign will tout, especially if you look at her lackluster enforcement against big banks. A recent Reuters report details the action Harris took as California Attorney General to alleviate home foreclosures and help borrowers following the 2009 financial crisis. Harris's enforcement is considered by experts as "very impressive politically," but "we don't really know ultimately if she moved the needle."

In 2011, all fifty state Attorneys General partnered up in settlement discussions with mortgage lenders following the financial crisis. An investigation had been opened by the coalition in October of 2010 to examine whether the mortgage lenders had caused the crisis through deceit or sloppiness, and to examine past lending practices.

However, in September 2011, Harris announced that she would not participate in the national probe because she felt California wasn't being offered enough relief from lenders.

Harris "fell in line" and rejoined the negotiations right before the $25 billion settlement was announced. The settlement delivered some modest relief to U.S. homeowners, including requiring banks to extend borrowers who lost their homes $2,000 payments. However, the settlement also released mortgage lenders from further "civil government claims over faulty foreclosures and the mishandling of requests for loan modifications."

For all of the political plaudits that Harris received for the splashy settlement, she also received mixed feedback from members of the press and progressives.

"Critics said that her theatrics won her little more than California would have received anyway, because the state has the greatest number of troubled home loans, and that her threats to hold banks accountable have been just that, while officials in several other states have filed lawsuits"

In the final deal, Harris did not achieve some of the fundamental goals that her office set, such as a moratorium on more foreclosures or a bigger pot of money for homeowners who were already foreclosed on by the bank. Additionally, far more people than estimated swallowed a loss on their home and sold it through a short sale than those who utilized the money to stay in their home.

The money from the short sales ensured that homeowners sold their homes at a loss. What that money also did is significantly help the banks:

"Putting nearly $14 billion toward short sales and second mortgages allowed the banks to use settlement money to reimburse themselves for money they might have lost anyway, said Bruce Marks, founder of the Neighborhood Assistance Corporation of America, a national nonprofit home ownership and advocacy organization that was active in California during the crisis."

The most widely distributed relief from the settlement, which ended up going to roughly 200,000 recipients, was $1,500 in restitution. One of those recipients called the amount awarded "a slap in the face for a lot of us."

As part of Harris's actions responding to the foreclosure crisis, she set up a "fraud strike force" to investigate and bring justice against fraudsters who had cheated people out of money. In fact, at a press conference announcing its creation, she called the mortgage fraud task force a "top priority" for her team.

The task force never really was a top priority though. East Bay Express reported in 2014 that Harris's office had prosecuted only ten cases of foreclosure consultant fraud in the three years since the task force's creation. California was far and away the most impacted by the foreclosure crisis and fraud. In fact, East Bay Express also reported that attorneys general from other states had "turned their sights on California, targeting rip-off artists who are based here and have scammed homeowners elsewhere in the country."

The inaction from Harris's strike force was particularly stunning given that the team was "well-funded and robustly staffed" and by Harris's own admission that "The California Department of Justice received thousands of complaints last year alone — all related to foreclosure scams, mortgage fraud, and mortgage servicing scams."

Due to Harris's inaction, the responsibility to prosecute these scams fell on Attorneys General from other states, private attorneys, and county district attorneys in California, who didn't have nearly as robust of resources as Harris did.

Harris's office used the task force as a political tool much like they used the nationwide settlement. In response to a public records request, Harris's office listed a case against Alan David Tikal, who ran a multi-state foreclosure rescue scam, as a defendant in a case against her task force. It turns out that this particular case was prosecuted by the Special Inspector General.

Harris has a long history with big banks. Her highly public attempts to hold the banks and mortgage fraudsters accountable following the financial crisis may have drawn a lot of headlines and made her a political force, but it is clear that those actions left those behind who really needed the help.

Keep tabs on the Democrats. Sign up for news.
Keep tabs on the Democrats. Sign up for news.