It Took One Day for Andrew Cuomo to Unravel Over News of a Primary Challenge
In what Politico describes as "one biggest demonstration yet of the visceral loathing and distrust of the governor among liberals," Sex and the City star Cynthia Nixon is beginning to lay the groundwork for a potential primary challenge against Andrew Cuomo. A vocal member of the Democratic party's progressive wing, Nixon has been critical of […]
March 8, 2018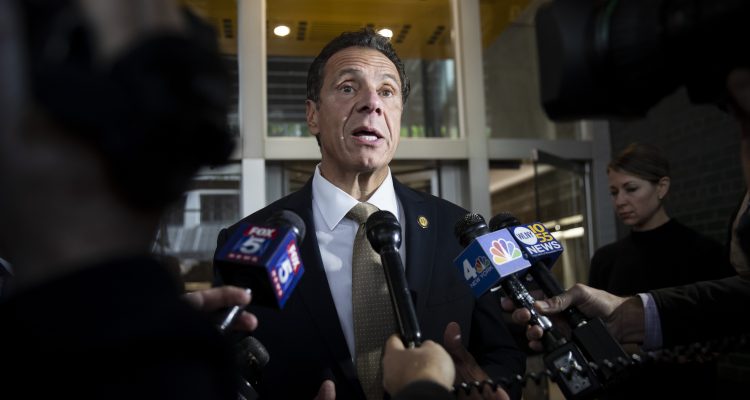 In what Politico describes as "one biggest demonstration yet of the visceral loathing and distrust of the governor among liberals," Sex and the City star Cynthia Nixon is beginning to lay the groundwork for a potential primary challenge against Andrew Cuomo.
A vocal member of the Democratic party's progressive wing, Nixon has been critical of Cuomo's tenure as Governor and reportedly mulling over a primary challenge since mid-2017.
Echoing New York City Mayor Bill de Blasio, Nixon has hit Cuomo over education, income inequality and accepting donations from 'big money interests.'
But, at first, the Governor seemed to laugh off the possibility of facing Nixon in the primary while on a conference call with reporters Wednesday morning.
Not only did Cuomo attempt to link his potential challenger to Russian President Vladimir Putin, he also disparaged Nixon as a B-list celebrity.
Questioning Nixon's name recognition, Cuomo said that "normally, name recognition is relevant when it has some connection to the endeavor."
"But if it's just about name recognition, I'm hoping that Brad Pitt, Angelina Jolie and Billy Joel don't get into the race. If it's just about name recognition, that would really be a problem," the Governor added.
But Cuomo lays vulnerable against his own party – with or without Nixon's star power. In the 2014 primary, little known Fordham University professor Zephyr Teachout won more than a third of the vote.
Cuomo's thin skin was also on display during his 2014 primary match up against Teachout. The Governor denigrated Teachout's professional achievements in front of reporters, insinuating that only someone with experience in government could adequately run the State of New York.
Furthermore, Cuomo's current feud with Mayor de Blasio has exposed splits within the Democratic Party, pitting progressives against moderates.
The Mayor made comments yesterday that he expects a "spirited" Democratic primary this September, during an interview with The Young Turks.
"Inevitably there will be a progressive challenge because of what's going on in the country, what's going on in the party and what's going on in this state," de Blasio said.
Despite de Blasio not being ready to support said "progressive" in the primary fight, Nixon is closely linked to the New York City mayor. Nixon's wife works for de Blasio and the pair has extensively campaigned together.
"She's extraordinary," de Blasio said of Nixon during his interview. "Obviously in her career she's achieved great things as well."
Perhaps de Blasio's comments rattled the Governor?
"Don't give me a speech, show me what you can do," Cuomo said as he railed against those questioning his progressive achievements on NY1 later that same day.
The Governor slammed Mayor de Blasio while on air, attacking him over New York City's ongoing housing issues.
"I don't believe a progressive administration tolerates more homeless people on the streets than ever before. That is repugnant to me. It's not what you say, it's what you do. It's not your speech, it's your results," Cuomo said.
The Democratic primary for governor is scheduled for September.
Keep tabs on the Democrats. Sign up for news.
Keep tabs on the Democrats. Sign up for news.