Jacky Rosen's Harry Reid Hypocrisy
For as long as Congresswoman Jacky Rosen (D-NV) has been in public life, Harry Reid has been promoting her political prospects. Before Rosen announced her run for Congress last year, it was Harry Reid and his political team who talked her into running: "Senate Minority Leader Harry Reid is trying to woo Jacky Rosen, head […]
August 23, 2017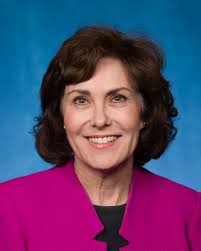 For as long as Congresswoman Jacky Rosen (D-NV) has been in public life, Harry Reid has been promoting her political prospects. Before Rosen announced her run for Congress last year, it was Harry Reid and his political team who talked her into running:
"Senate Minority Leader Harry Reid is trying to woo Jacky Rosen, head of a prominent temple, to run for Congress, sources confirm. Rosen, who plans a DC trip next week, was not available. But I'm told the godfather and his political consigliere, Rebecca Lambe, have talked to Rosen, who helms Congregation Ner Tamid. And, I'm told, she has had conversations with the Democratic Congressional Campaign Committee."
During last year's campaign, Rosen was so closely identified with Reid, that she actually had to deny that she was Reid's puppet. This year, even though the Congresswoman was just elected months ago, it was once again Harry Reid who pushed Rosen to run for the Senate:
"Democratic Rep. Jacky Rosen announced today she is officially running for U.S. Senate, culminating weeks of deliberations that — once again — began with a phone call from Nevada's political godfather Harry Reid."
Yet, now that Rosen is running, she's doing everything she can to distance herself from the still-unpopular Reid. Appearing on MSNBC today, Congresswoman Rosen filibustered in an attempt to not admit that Reid had called her and pressed her to run:
Congresswoman Rosen might not like to admit how close she is politically to Harry Reid, but there's no hiding it from Nevada voters. Nevadans were finally rid of Harry Reid's odious politics last year, they are not about to elect his protégé next year.
Keep tabs on the Democrats. Sign up for news.
Keep tabs on the Democrats. Sign up for news.