Kamala Harris' Long History of Flip Flops
Democrat VP nominee Kamala Harris has changed her stance on a number of key issues in an attempt to pander to the liberal base in the expansive Democratic presidential primary.
August 12, 2020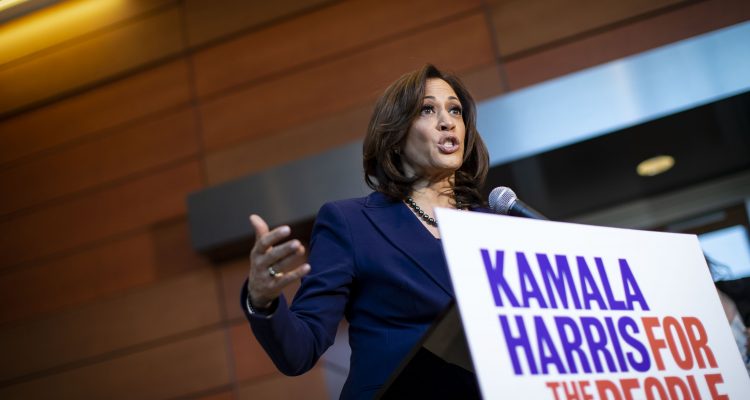 Democrat Vice Presidential nominee Kamala Harris has changed her stance on a number of key issues in an attempt to pander to the liberal base of the Democratic Party.
Abolishing ICE
When it comes to immigration, Harris originally did not support abolishing the Immigration and Customs Enforcement Agency (ICE). In March of 2018, she stated "ICE has a role, ICE should exist." However, once the far-left latched onto the idea of ending ICE, Harris morphed her stance saying ICE needed to be "reexamined" and that "we need to probably think about starting from scratch." By July 2018, Harris was forced to clarify expressing ICE needs "a complete overhaul of the agency, mission, culture, operations."
Sanctuary Cities
As a presidential candidate, Harris claims she attempted to protect San Francisco's sanctuary city policies. Yet, her record as District Attorney tells a different tale. According to CNN:
"As district attorney of San Francisco, Kamala Harris supported a city policy that required law enforcement to turn over undocumented juvenile immigrants to federal immigration authorities if they were arrested and suspected of committing a felony, regardless of whether they were actually convicted of a crime."
Back in 2008 while DA, Harris stated sanctuary polices were "never intended to shield anyone from being held accountable for a crime." However, her office was not turning over convicted criminals for deportation. The San Francisco ChronicleEditorial Board criticized Harris for her mismanagement:
"District Attorney Kamala Harris does not emerge unscathed. Her prosecutors should have known that convicted drug dealers were being allowed to bypass deportation. If they did raise objections, they were ineffective. If they did not, then they were either unclear on the law or not looking out for the best interest of the city."
Legalizing Marijuana
As a Senator and presidential candidate, Harris supports the decriminalization of marijuana for recreational use. But, as California Attorney General, Harris was largely silent on progressive marijuana policies. During her tenure as AG, hundreds were sent to prison for marijuana offenses.
Prostitution
In February 2019, Harris said sex work should be decriminalized. But back in 2008, Harris opposed decriminalizing prostitution, calling the idea "completely ridiculous." She added, "it would put a welcome mat out for pimps and prostitutes to come on into San Francisco."
Human Trafficking
As Attorney General, Harris was critical of the Backpage.com website, which features advertisements for "adult services." Harris called the site "the world's top online brothel" and said those who operate the site need to be brought to justice.
Fast forward to her time in the US Senate. Harris notably hesitated to co-sponsor legislation that would allow state Attorneys General to prosecute Backpage and other sites, warning of "unintended consequences that could harm the internet." Harris received the fourth highest sum of campaign contributions from the internet industry in the 2016 cycle. Sex trafficking activists have criticized Harris' decision to not publicly embrace the Senate's Backpage legislation:
"'Harris has a bit of a split personality,' said Jamie Court, president of the nonprofit consumer advocacy group Consumer Watchdog. 'She really was a dogged advocate for these families of victims when she was attorney general… 'She can come out for single payer [healthcare] all she wants,' he says, but 'advocates like myself and families who are affected are never going to let her forget.'"
Sentencing Reform
Kamala Harris has centered her presidential run around the narrative that she is a "progressive prosecutor" who worked to reform the inequalities in the criminal justice system. However, as DA and AG she was given multiple opportunities to reform California's "three strikes policy," but has never come out against it. According to California law, a defendant who is previously convicted of a serious felony is required to be sentenced to at least 25 years to life in prison. As District Attorney, Harris opposed efforts to ease three strikes while promising to not pursue life sentences for some three strikes offenders. In 2014 while AG, Harris did not endorse Proposition 47, which would have reduced the number of people affected by three strikes. In 2010 Harris' Republican opponent actually ran to her left and supported reforms to three strikes sentencing.
Death Penalty
In March 2019, Harris publicly supported California Governor Gavin Newsom's moratorium on the death penalty, calling the death penalty "immoral." Rewind to when Harris was AG. She failed to take a position on two death penalty-related ballot initiatives. Despite campaigning on her objection to the death penalty, Harris defended it as Attorney General. In 2014, Harris appealed a ruling that declared California's enforcement of the death penalty unconstitutional.
Civil Asset Forfeiture
As a presidential candidate, Harris is against civil asset forfeiture calling the confiscation of property "the criminalization of poverty." Nevertheless, when Harris was Attorney General, she helped defeat a California bill that would have curbed civil asset forfeiture. She went as far to sponsor a bill to expand civil asset forfeiture before going to trial. When Harris was District Attorney, San Francisco initiated 301 asset forfeiture cases with an estimated value of $938,013.
Foreign Policy
In March 2018, Harris described Russia as a "foreign adversary," but back in 2012 she praised President Obama's "Russian reset." As she runs for president, Harris supports the withdrawal of American troops from Syria. Yet, back in 2016 Harris supported sending the U.S. military to Syria, Libya, and Iraq to fight ISIS.
Keep tabs on the Democrats. Sign up for news.
Keep tabs on the Democrats. Sign up for news.