Manchin Wants Disgraced Franken To Stick Around
Senator Al Franken (D-MN) has been accused of sexual harassment by eight different women. Yet, even though Senator Franken has already announced his resignation, Senator Joe Manchin (D-WV) is urging him to reconsider. In that vein, Senator Manchin told Politico that the calls for Senator Franken to resign were "atrocious": "Sen. Joe Manchin (D-W.Va.), who […]
December 18, 2017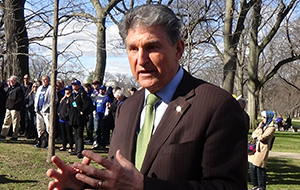 Senator Al Franken (D-MN) has been accused of sexual harassment by eight different women. Yet, even though Senator Franken has already announced his resignation, Senator Joe Manchin (D-WV) is urging him to reconsider. In that vein, Senator Manchin told Politico that the calls for Senator Franken to resign were "atrocious":
"Sen. Joe Manchin (D-W.Va.), who urged Franken not to step down to begin with — at least not before he went through an Ethics Committee investigation — said the Minnesota senator was railroaded by fellow Democrats. 'What they did to Al was atrocious, the Democrats,' said West Virginia Sen. Joe Manchin in an interview for POLITICO's Off Message podcast to post on Tuesday."
Instead of standing against sexual harassment, Senator Manchin focused his comments on the "hypocrisy" of his fellow Senate Democrats on the issue:
"Manchin ripped into the members who issued statements insisting that Franken resign — only to gather on the Senate floor the next day to watch him announce he was doing just that. 'The most hypocritical thing I've ever seen done to a human being — and then have enough guts to sit on the floor, watch him give his speech and go over and hug him? That's hypocrisy at the highest level I've ever seen in my life. Made me sick,' Manchin said."
Apparently, according to Politico, Senator Manchin is not the only Senate Democrat who feels this way too:
"At least four senators are urging Al Franken to reconsider resigning, including two who issued statements calling for the resignation two weeks ago and said they now feel remorse over what they feel was a rush to judgment."
Senator Manchin's retrograde comments are unbecoming of a Senator. He should apologize.
Keep tabs on the Democrats. Sign up for news.
Keep tabs on the Democrats. Sign up for news.