August 30, 2017
Many In The Democratic Party Can't Move Past 2016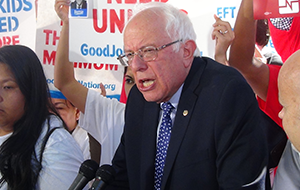 The roots of the great divide within the Democratic Party lies in the anger Bernie Sanders and his supporters hold for the DNC and establishment Democrats over their handling of the 2016 presidential primaries. Even though we are more than a year past the end of the primaries, the ever-growing Democratic civil war shows shown that many Sanders supporters have not gotten over it.
In the Washington Post today, Dave Weigel examines this phenomenon, saying that for "a certain kind of 2016 Sanders supporter, the primary never really ended":
"Most, like Sanders, have remained in Democratic Party politics to drive the conversation further to the left. Organizations like Justice Democrats and #AllOfUs are oriented around primary challenges and bullet-pointed agenda; Sanders's own Our Revolution is providing a national donor network progressives in often-ignored local races. But for a certain kind of 2016 Sanders supporter, the primary never really ended. It grew into a defining, eye-opening event — a moment when it became clear that Democrats could not be trusted, were not worth co-opting, and might literally be getting away with crimes."
The Post also explains that a whole fake news ecosystem has sprung up around the notion that the DNC stole the nomination from Bernie:
"Something similar, but smaller, has grown up around the people who want to prove that the 2016 primary was stolen from Sanders. Over the weekend, there was no TV coverage of the case; it was easy to spend hours, instead, absorbing punditry on YouTube. The case against the 'mainstream media' was easy to make, anyway as the Becks' lawsuit drew little national attention."
The constant re-litigating of the 2016 Democratic primaries will be an impediment to any hopes of a unified Democratic Party. With Bernie himself showing no sign of repairing his ruptured relationship with the DNC, this is a major problem for Democrats to deal with as they approach the midterms.