NTK Network: FLASHBACK: Schumer Calls On Republicans To End 'Futile' Recount Efforts In 2006
In 2006, when Democrats were narrowly ahead in two senate races Chuck Schumer called to end the recounts. Now, he is insistent upon a recount in Florida where Democrat Bill Nelson trails: FLASHBACK: Schumer Calls On Republicans To End 'Futile' Recount Efforts In 2006 In those 2006 Senate contests, Democrats led Republicans by 7,000 and […]
November 14, 2018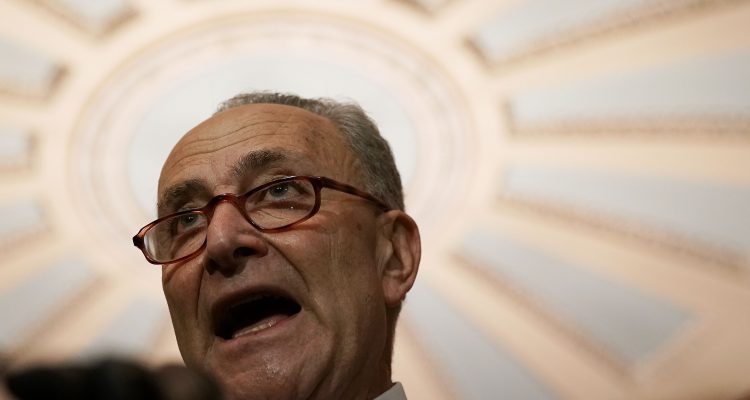 In 2006, when Democrats were narrowly ahead in two senate races Chuck Schumer called to end the recounts. Now, he is insistent upon a recount in Florida where Democrat Bill Nelson trails:
FLASHBACK: Schumer Calls On Republicans To End 'Futile' Recount Efforts In 2006
In those 2006 Senate contests, Democrats led Republicans by 7,000 and 3,000 votes. Nelson trails Scott by 12,000, yet Schumer insists the recount will somehow give Nelson the lead.
Sen. Bill Nelson (D-FL) trails Gov. Rick Scott (R-FL) in the Florida Senate race by about 12,000 votes. A recount is currently underway, and despite the hole Nelson finds himself in, Senate Minority Leader Chuck Schumer (D-NY) is confident the Democrat will prevail.
"Republicans know that if this recount is conducted fairly and thoroughly that Sen. Nelson has an excellent chance of being reelected," Schumer said. "If this is done fair and square, we believe Sen. Nelson has an excellent chance, a much greater than half chance of being reelected."
It's not immediately clear why Schumer is so optimistic, however. A 12,000-vote deficit is a mighty big margin to overcome in a recount, and Schumer of all people should know that.
In 2006, Schumer, then the Democratic Senatorial Campaign Committee (DSCC) chairman, urged then-President George W. Bush to encourage Republicans George Allen and Conrad Burns to concede their Senate races in Virginia and Montana, respectively.
"John Kerry did just that in 2004 – you may remember that morning, where he said he knew that a recount could delay things but wouldn't change the outcome," Schumer said at the time, referring to the close presidential race in Ohio that year.
Schumer called conceding the "gentlemanly thing to do" in these 2006 Senate race races. To bolster his point, Schumer mentioned races between Tim Johnson and John Thune in South Dakota and Harry Reid and John Ensign in Nevada, each which were decided by fewer than 1,000 votes. The races involving Allen and Burns had margins of 7,000 and 3,000 votes, respectively.
Yet Nelson trails Scott by nearly double what Allen trailed Jim Webb in 2006, and Schumer not only wants the recount to go on but insists he's confident the outcome will somehow swing more than 12,000 votes in Nelson's favor.
Schumer is no stranger to hypocrisy, particularly where his political ambition is concerned. But his insistence that somehow this Florida recount in 2018 is any less futile than those in 2006 is utter nonsense.
Keep tabs on the Democrats. Sign up for news.
Keep tabs on the Democrats. Sign up for news.