Pelosi's "Crumbs" Comment Continues To Backfire
Yesterday, House Minority Leader Nancy Pelosi caused a firestorm of condemnation when she called $1,000 bonuses American workers are receiving because of tax reform, "crumbs." Yet, while Leader Pelosi's comments received the most attention, it's part of a widespread trend within the Democratic Party: "Democrats worried the GOP tax-cut law is getting good press are […]
January 26, 2018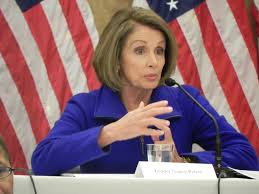 Yesterday, House Minority Leader Nancy Pelosi caused a firestorm of condemnation when she called $1,000 bonuses American workers are receiving because of tax reform, "crumbs." Yet, while Leader Pelosi's comments received the most attention, it's part of a widespread trend within the Democratic Party:
"Democrats worried the GOP tax-cut law is getting good press are working hard to undermine any positive feelings about the overhaul becoming engrained with the public. Since the measure passed Congress last month, a wave of companies have announced bonuses for employees, and some polls have shown an increase in support for the law."
Democrats' attempt to downplay the positive impact of tax reform look especially ridiculous when you see that as least 250 companies have given workers bonuses because of tax reform:
"A list compiled by Americans for Tax Reform, the anti-tax group helmed by Grover Norquist, includes 250 companies that have announced bonuses, wage increases and/or benefit increases in the wake of the tax bill's passage. Among those on the list are major companies such as Home Depot, Starbucks and Walmart."
Democrats like Pelosi and Congresswoman Debbie Wasserman Schultz are certainly welcome to continue downplaying the good news regarding tax reform. Yet, if they do, they'll just be reminding the American people how out-of-touch they are.
Keep tabs on the Democrats. Sign up for news.
Keep tabs on the Democrats. Sign up for news.