Plagued by Severely Flawed Candidates, Democrats Begin to Ask, 'Is There Anybody Else?'
Iowa Democrats' undecided numbers have risen while the establishment looks for alternatives.
October 22, 2019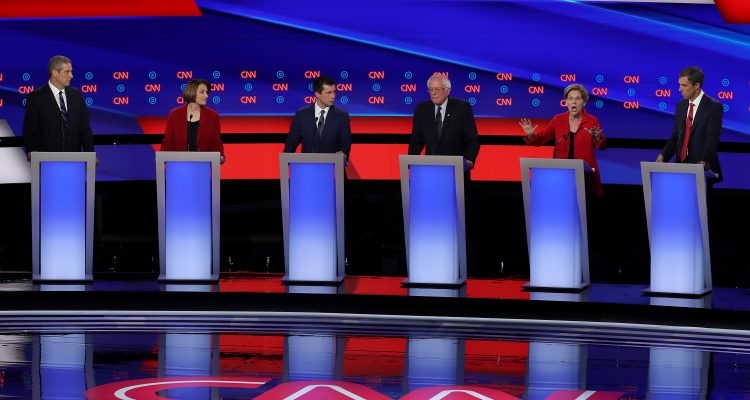 Over the past two days, Iowa and establishment Democrats have both shown signs that they are dissatisfied with their choices in the Presidential primary.

In polling released yesterday by Suffolk University, the percentage of caucusgoers who are undecided rose to 29%, an 8 point increase since the last Suffolk/USA Today poll.

And this morning, the New York Times published a story detailing deliberations amongst establishment figures and potential candidates about a late entry into the race.

NY Times: Anxious Democratic Establishment Asks, 'Is There Anybody Else?'

Specific criticisms of Joe Biden, Elizabeth Warren, and Pete Buttigieg offer a look inside the minds of establishment Democrats who are concerned about defeating President Trump.

NY Times: "With doubts rising about former Vice President Joseph R. Biden's ability to finance a multistate primary campaign, persistent questions about Senator Elizabeth Warren's viability in the general election and skepticism that Mayor Pete Buttigieg, of South Bend, Ind., can broaden his appeal beyond white voters, Democratic leaders are engaging in a familiar rite: fretting about who is in the race and longing for a white knight to enter the contest at the last minute."

The white knight that the establishment is looking for includes some high-profile names that would garner name recognition and possibly huge financial backing upon entering the race.

A lot of this will hinge on the viability of Joe Biden, who has so far disappointed on the trail. Former New Orleans Mayor Mitch Landrieu, who considered running himself, expressed concern with Biden's performance.

NY Times: "I can see it, I can feel it, I can hear it," Mitch Landrieu, the former New Orleans mayor, said of the unease within the party. He said he thinks Mr. Biden is best positioned to defeat Mr. Trump but called the former vice president's fund-raising "a real concern."

It's clear that establishment Democrats have become uncomfortable with the party's move to the left and are concerned with how Warren and Sanders supported policies, such as Medicare for All, will play in a general election.

Only time will tell if the establishment's white knight will come to fight it out with the progressives for the soul of the Democratic Party.

Keep tabs on the Democrats. Sign up for news.
Keep tabs on the Democrats. Sign up for news.