Recent Developments Highlight How Single-Payer Divides The Democratic Party
This week, Senator Bernie Sanders (I-VT) will unveil his single-payer bill, with many of his most ambitious fellow Senators on board. The move to embrace Senator Sanders' bill is once again clear evidence that single-payer is the defining litmus test for Democrats with presidential ambitions. Senator Cory Booker (D-NJ), joined the growing group of co-sponsors […]
September 12, 2017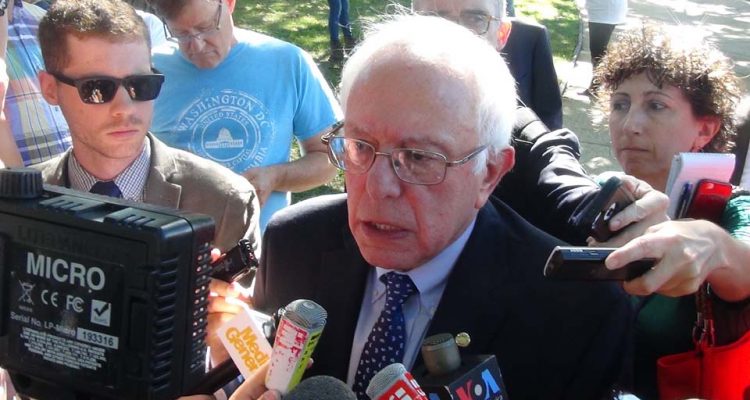 This week, Senator Bernie Sanders (I-VT) will unveil his single-payer bill, with many of his most ambitious fellow Senators on board. The move to embrace Senator Sanders' bill is once again clear evidence that single-payer is the defining litmus test for Democrats with presidential ambitions.
Senator Cory Booker (D-NJ), joined the growing group of co-sponsors for Bernie's bill earlier this week. Senator Booker's announcement is notable because of his recent reticence to single-payer:
"Medicare for All is becoming the new litmus test for Democratic presidential hopefuls. Cory Booker became the fifth Democratic senator to co-sponsor Bernie Sanders's Medicare for All bill on Monday afternoon. It's a shift for Booker, who recently told Vox's Jeff Stein that single-payer is merely 'one of those options that must be considered.' He has evidently decided that it is the best option."
The other notable Democrat to announce they were co-sponsoring Bernie's trillion dollar government takeover plan this week was Senator Kirsten Gillibrand (D-NY). Like Booker, Senator Gillibrand's support is a major change from her previous position on single-payer.
Even with these additions, the internal Democratic debate on single-payer this fall will be very divisive. The clearest example of that was House Minority Leader Nancy Pelosi's comments on Bernie's bill today. Leader Pelosi came out strongly against the bill, saying it was a distraction from protecting Obamacare:
"House Minority Leader Nancy Pelosi (D-Calif.) declined to back a single-payer health care bill drafted by Sen. Bernie Sanders (I-Vt.) , saying she is instead focused on efforts to shield Obamacare from Republican attempts to rescind it. 'Right now, I'm protecting the Affordable Care Act,' Pelosi told a small group of reporters in her Capitol office Tuesday. 'None of these other things … can really prevail unless we have the Affordable Care Act.'"
Just last year, Tom Perez, now DNC Chairman, came out forcefully against single-payer, saying it would "raise taxes on everyone." With Perez and now Pelosi, lining up strongly against his bill, this is a fight that will pit the Democratic Party establishment against ambitious 2020 Democrats. If Democrats thought the complications from the single-payer divide were bad now, they're only going to get worse from here.
Keep tabs on the Democrats. Sign up for news.
Keep tabs on the Democrats. Sign up for news.