Shakeup At The DNC, As Perez Moves Against Ellison/Sanders Backers
Tom Perez's time running the Democratic National Committee has been filled with failures, embarrassments, and ethics scandals. Given Perez's futility, changes at the DNC were inevitable. Yet, Perez's new overhaul of the Committee is still breathtaking for its lack of subtlety. According to NBC, Perez's moves are being seen by progressives as "retaliation for their […]
October 19, 2017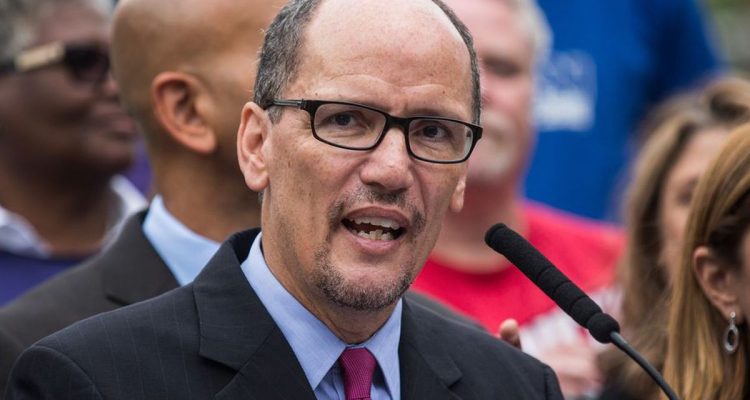 Tom Perez's time running the Democratic National Committee has been filled with failures, embarrassments, and ethics scandals. Given Perez's futility, changes at the DNC were inevitable. Yet, Perez's new overhaul of the Committee is still breathtaking for its lack of subtlety. According to NBC, Perez's moves are being seen by progressives as "retaliation for their opposition" to his DNC campaign. Collectively, Perez's shakeup can be seen as the expulsion of key Sanders and Ellison surrogates.
Most notably, four high profile backers of either Bernie Sanders' presidential campaign or Keith Ellison's DNC run were taken off the key DNC committees. One of those who was removed, James Zogby, told NBC that Perez's moves threaten to re-ignite the still simmering conflict that dominated Democratic politics in 2016
"The moves exposed a rift in the partnership between Perez and his deputy chair, Ellison, who have publicly broadcast their 'bromance' since Perez tapped the lawmaker for the post in a show of unity after their hard-fought race earlier this year for the party's chairmanship. 'I'm concerned about the optics, and I'm concerned about the impact,' Zogby said of the changes. 'I want to heal the wound of 2016.'"
Between Perez's personnel moves and the DNC's resolution against Sanders' independent status, it's clear that the DNC is not very interested in unity. From Perez's actions, it seems the DNC and the Democratic establishment just want control – and if Sanders and his ilk don't like it, they can leave.
Keep tabs on the Democrats. Sign up for news.
Keep tabs on the Democrats. Sign up for news.