Six Weeks Later, Donnelly Just Now Selling Outsourcing Stock
Senator Joe Donnelly (D-IN) is certainly taking his time selling his outsourcing stock. On July 14th, the Associated Press reported that Senator Donnelly has been profiting from stock he owns in Stewart Superior Corp, which outsources its labor to Mexico. This afternoon, the Associated Press reported that six weeks later, Senator Donnelly is just now […]
August 29, 2017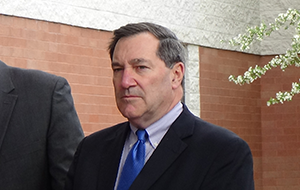 Senator Joe Donnelly (D-IN) is certainly taking his time selling his outsourcing stock. On July 14th, the Associated Press reported that Senator Donnelly has been profiting from stock he owns in Stewart Superior Corp, which outsources its labor to Mexico. This afternoon, the Associated Press reported that six weeks later, Senator Donnelly is just now "finalizing" the sale of the infamous stock:
"An Indiana senator who is a longtime critic of outsourcing jobs to foreign countries says he's finalizing his sale of stock in a family arts and crafts business that operates a factory in Mexico. Sen. Joe Donnelly, considered one of the most vulnerable Democrats up for re-election in a deep red state next year, vowed on July 14 to sell stock worth as much as $50,000 in the Stewart Superior Corp. The promise came after The Associated Press first reported that the company, which is operated by Donnelly's brother and has been in his family for generations, benefits from the same trade practices Donnelly has blasted throughout his political career."
Senator Donnelly's actions don't change the fact that, until he was caught, he was perfectly fine profiting from the outsourcing of Indiana jobs to Mexico. Unfortunately for Donnelly's re-election prospects, his hypocrisy on this issue won't go away with the sale of the stock.
Keep tabs on the Democrats. Sign up for news.
Keep tabs on the Democrats. Sign up for news.