Third Way Attacks Bernie Sanders' Extreme Leftist Plans
The Democratic civil war's primary divide is largely driven by the Sanders faction, galvanized by their perception that the Party establishment rigged the primary contest last year. Their goal is to move the party as far left as possible. This has manifested itself in fights to promote Sanders' single-payer plan. Now, some who are uneasy […]
September 5, 2017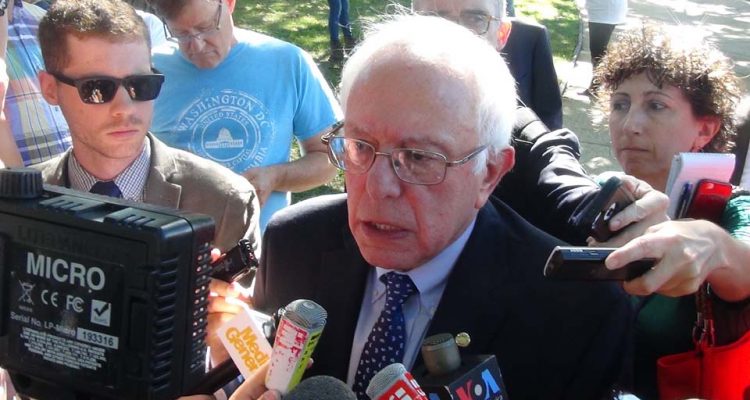 The Democratic civil war's primary divide is largely driven by the Sanders faction, galvanized by their perception that the Party establishment rigged the primary contest last year. Their goal is to move the party as far left as possible. This has manifested itself in fights to promote Sanders' single-payer plan. Now, some who are uneasy with a Sanders-led party are fighting back.
Today, the left wing think tank Third Way is out with a report attacking the "economic populism often pushed by prominent figures like Sens. Bernie Sanders and Elizabeth Warren." Specifically, the stinging rebuke singles out Sanders proposals that look like government "handouts"
"To remedy that situation and the related belief that Democrats work for 'somebody else,' the report recommends that party officials avoid proposals that can be branded as 'handouts,' in addition to staying away from attacking businesses. 'Rallying around proposals like free college or universal basic income just exacerbate this resentment,' the authors warn, referring to the education policy pitch at the center of Sanders' 2016 presidential campaign. 'Effective policy solutions to bolster economic security are vital, but they must begin with job creation and be tethered to the values of hard work and earning your way that underscore America's economic compact.'"
Third Way's critique of Bernie comes on the heels of events the socialist Senator did in the critical state of New Hampshire over Labor Day Weekend. According to the Boston Herald, the events had the "distinct feel of campaign events":
"Bernie Sanders spent his Labor Day morning making a pair of stops in New Hampshire that had the distinct feel of campaign events, as a Democratic analyst warned not to count out the elderly socialist in the 2020 campaign. Speaking to a full-house crowd at the annual AFL-CIO Labor Day breakfast in Manchester, and to hundreds more at a rally in Rollins Park in Concord, the Vermont senator struck many of the same themes: Medicare-for-all, income inequality and repealing Citizens United."
Sanders supporters were not subtle with their Bernie 2020 signs at his events. With Bernie working like he never stopped running in 2016, the Democratic Party has a massive schism on its hands. With Third Way's shot at Sanders today, it's clear the Democratic divide is only growing.
Keep tabs on the Democrats. Sign up for news.
Keep tabs on the Democrats. Sign up for news.