September 13, 2017
White House Dinner Reminds Indiana Voters Of Donnelly's Outsourcing Hypocrisy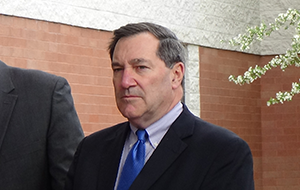 Last night, Senator Joe Donnelly (D-IN) attended a dinner at the White House. After the dinner was over, Senator Donnelly made sure the media knew that he spent time during the dinner promoting his End Outsourcing Act:
"I had another good conversation with President Trump about my proposal to address the outsourcing of American jobs. I am pleased he remains supportive of my proposal, and I believe that tax reform should include measures to support companies that invest in our workers and penalize companies that ship American jobs to foreign countries,' said Donnelly."
In putting out a statement highlighting his own bill which would "penalize companies that ship American jobs to foreign countries," Senator Donnelly resurfaced his own outsourcing hypocrisy. After all, this summer Indianans learned that Senator Donnelly had profited greatly from his family business shipping Indiana jobs to Mexico. Significantly, while Senator Donnelly vowed to sell his stock in the outsourcing company, he made no mention what he'll do with the tens of thousands in profit he's earned from the outsourcing company in recent years:
"Donnelly's spokesman Peter Hanscom told the AP the senator would be donating the proceeds from the sale to local charities, but made no mention of what would be done with the up to $80,000 he earned in dividend payments from 2014 to 2016."
Senator Donnelly's phony fight against outsourcing is exposed by the tremendous profits he made investing in a company that shipped jobs to Mexico. Every time Donnelly addresses the issue, all he's doing is reminding Indiana voters of his outrageous hypocrisy.