How Kamala Harris' Death Penalty Decisions Broke Hearts On Both Sides
April 9, 2019
In 2004, Kamala Harris refused to pursue the death penalty against a convicted cop killer.
WaPo: Crime Lab Scandal Rocked Kamala Harris's Term as San Francisco District Attorney
March 6, 2019
The Washington Post is out with a new report detailing the crime lab scandal that took place during Kamala...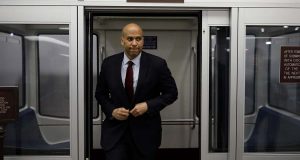 Fact Check: Does Cory Booker Deserve Credit for Newark's Crime Rate?
October 4, 2018
In an interview yesterday, New Jersey Democratic Senator and 2020 hopeful, Cory Booker, took credit for the city of...