2020 Watch: Kamala Harris Attempts To Get Right With The Bernie Crowd
Senator Kamala Harris (D-CA) has spent her first year in the Senate planning for a 2020 presidential run. Senator Harris' transparent ambitions have caused many Bernie Sanders supporters to react negatively toward her. One Sanders' ally said she was "in bed with Wall Street." Another said that Harris was the "preferred candidate of extremely wealthy," […]
August 31, 2017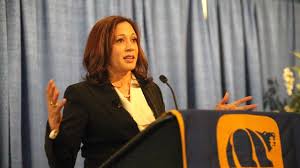 Senator Kamala Harris (D-CA) has spent her first year in the Senate planning for a 2020 presidential run. Senator Harris' transparent ambitions have caused many Bernie Sanders supporters to react negatively toward her. One Sanders' ally said she was "in bed with Wall Street." Another said that Harris was the "preferred candidate of extremely wealthy," and added that she needed to come out for single-payer to show she was right for 2020.
Senator Harris apparently got the message because last night she endorsed Senator Sanders' single-payer bill, adding that she become the first Senate Democrat co-sponsor it:
"U.S. Sen. Kamala Harris announced Wednesday that she intends to support a congressional effort to expand Medicare to all Americans. 'I intend to co-sponsor the Medicaid-for-All bill,' California's junior senator told several hundred people at a town hall at Oakland's Beebe Memorial Cathedral, referring to Vermont Sen. Bernie Sanders' Medicare-for-All proposal."
Importantly, Harris move now puts her in line with many of her fellow 2020 aspirants when it comes to single-payer:
"But the Democratic Party has moved swiftly to the left on health care since the election. Most key 2020 contenders — including Sens. Elizabeth Warren (D-MA), Kirsten Gillibrand (D-NJ), and Corey Booker (D-NJ) — have said they support the idea of single-payer without necessarily backing Sanders' bill or an existing bill."
Liberals in thrall with a far-left ideology might be pleased with Senator Harris' move, but not the majority of Americans. The widespread embrace of single-payer by top Democratic presidential contenders is the clearest sign that the Democratic Party is losing touch with the American people.
Keep tabs on the Democrats. Sign up for news.
Keep tabs on the Democrats. Sign up for news.