Illegal Immigrants Praise Joe Biden's Open Borders
Illegal immigrants are capitalizing on Joe Biden's open borders policies.
November 14, 2022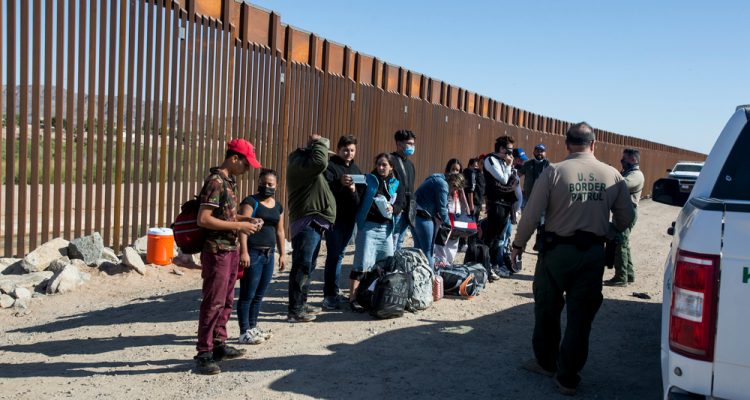 Thousands of immigrants illegally cross the southern border every day as the Biden-Harris administration struggles to maintain order. Fox News reports that illegal immigrants are entering the country with "no resistance," and that they praise Biden as "the best" when they enter the United States. Still, Kamala Harris and other Biden administration officials insist the border is "closed."

Fox News: Shocking drone footage shows migrants streaming across the U.S.-Mexico border into Eagle Pass, Texas, virtually unimpeded.

The footage, captured by Fox News with thermal imaging cameras, is just one example of the daily mass crossings reporter Bill Melugin has witnessed at the border over the past week. Border crossings have surged under President Biden, and multiple migrants told Fox that "Joe Biden es el major," or "Joe Biden is the best."

Melugin says the border crossings happen every morning "with no resistance" on either side of the border. Biden's administration has insisted that the U.S.-Mexico border is "closed" despite overwhelming evidence to the contrary.

In the fiscal year that ended in September, a record-breaking 2.7 million immigrants illegally entered the country. The situation at the border remains a humanitarian and national security crisis. Migrants face extortion by cartels, and drug traffickers and terrorists exploit the porous border to threaten the health and safety of U.S. citizens.

CONVICTED SEX OFFENDERS ARRESTED AT THE BORDER: Large groups continue to pour into the U.S. illegally crossing the border.@BillFOXLA reporting live from Eagle Pass, TX:@BillHemmer @DanaPerino pic.twitter.com/ppHRAzOTsC

— America's Newsroom (@AmericaNewsroom) November 10, 2022
Republican governors and members of Congress are taking action to hold Democrats accountable for the border crisis. Congressional Republicans demanded the Biden administration preserve documents related to the border as they prepare to investigate the administration's failures. Border-state Republicans are using their own resources to move migrants to progressive cities — including New York City, Washington, Chicago and now Philadelphia — typically insulated from the effects of the crisis.

Bottom Line: Illegal immigrants are capitalizing on Joe Biden's open borders policies.

Keep tabs on the Democrats. Sign up for news.
Keep tabs on the Democrats. Sign up for news.