America Rising PAC Launches Website Highlighting The Impact Of Menendez's Corruption Trial
Senator Robert Menendez (D-NJ) has been living under the cloud of a felony indictment since 2015. His corruption and bribery trial has finally started this month, and it couldn't come at a worse time. September promises to be a busy time in the United States Senate. Yet, instead of spending his time voting on the […]
September 15, 2017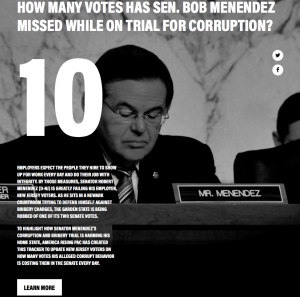 Senator Robert Menendez (D-NJ) has been living under the cloud of a felony indictment since 2015. His corruption and bribery trial has finally started this month, and it couldn't come at a worse time. September promises to be a busy time in the United States Senate. Yet, instead of spending his time voting on the Senate floor, Senator Menendez is sitting in a New Jersey courtroom, on trial for his freedom.
Senator Menendez's inability to do his job has prompted America Rising PAC to launch a new website, http://www.howmanyvoteshasmenendezmissed.com, first reported in the New York Post. Our website focuses attention on the fact that with the United States Senate very closely divided, every vote truly matters. As Senator Menendez's corruption trial progresses, America Rising PAC will be updating the website so that every New Jersey voter knows just how much influence Senator Menendez' horrible judgment has cost them. And with just 20% of registered New Jersey voters saying they want Senator Menendez re-elected next year, this is a message New Jersey voters are already stewing about.
Keep tabs on the Democrats. Sign up for news.
Keep tabs on the Democrats. Sign up for news.