'Another Blow' for Chuck Schumer's Senate Recruitment Efforts
After Countless In-Person Meetings, 'Team Schumer Failed Yet Again'
May 1, 2019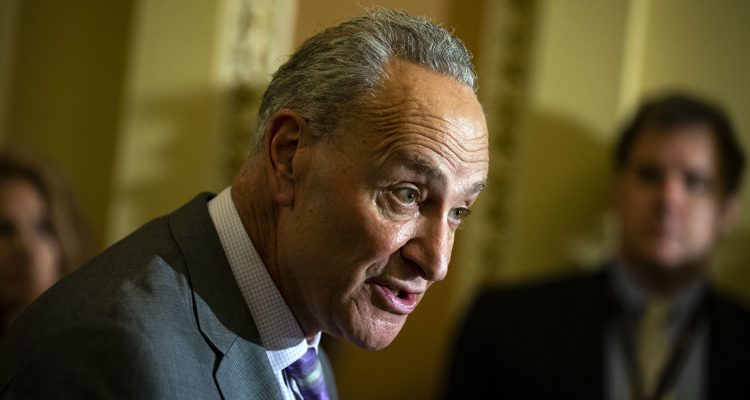 After Countless In-Person Meetings, 'Team Schumer Failed Yet Again'
Yesterday brought another rash of high-profile Democrats turning down Chuck Schumer and his lieutenants in their efforts to recruit candidates for Senate races. Now, some Democrats are beginning to become "alarmed by the lack of candidates."
James Downie, Washington Post: "Always harder to recruit for Senate when a presidential race is wide open and the Betos of the world have people telling them they can win that instead. But Team Schumer failed yet again."
James Pindell, Boston Globe: "Geez. Schumer's recruiting week is not going well."
Politico: "Democrats' hopes of Senate takeover damaged by recruiting whiffs"
"…so far, a number of the party's high-profile recruits have said no to Minority Leader Chuck Schumer and the party's campaign arm."
Associated Press: "Senate Democrats are stinging from a trio of high-profile failures to recruit candidates who could help reclaim the majority"
The trio is on an increasingly popular list, including at least four others, who have rejected overtures from Senate Democrats.
Associated Press: "Montana Gov. Steve Bullock is likely to follow suit in rejecting a Senate run"
Associated Press: "A spokeswoman for Democratic Rep. Cindy Axne said the freshman would seek re-election next year…The Democratic Senatorial Campaign Committee, Senate Democrats' campaign organization, had tried persuading Axne to run for U.S. Senate."

Iowa Starting Line: "Sources tell Starting Line that the DSCC's first choice was Vilsack, but that newly-elected Congresswoman Cindy Axne of West Des Moines was a close second."
Politico: "North Carolina state Attorney General Josh Stein, a Democrat, will not run for Senate. He was considered a top recruit by Democrats."
Schumer has personally met with or asked numerous candidates to run for Senate who then turned him down.
Abrams met with Schumer in Washington D.C. in April.

Buzzfeed: Abrams told Buzzfeed that "Senate Minority Leader Chuck Schumer has been "relentless but thoughtful" in recruiting her to run for Senate.
Veteran Democratic Strategist, Politico: "But privately, some Democrats are alarmed by the lack of candidates…We really need to get some good recruits as quickly as possible"
Keep tabs on the Democrats. Sign up for news.
Keep tabs on the Democrats. Sign up for news.