Battle Royale in the Empire State
New York's most prominent Democrats sure do spend a lot of time quarreling with each other. In the last few days New Yorkers have been treated to feud flare-ups between former U.S. Attorney Preet Bharara and Governor Andrew Cuomo (D-NY) and also Cuomo and New York Mayor Bill de Blasio. In fact, the Cuomo-de Blasio […]
October 3, 2017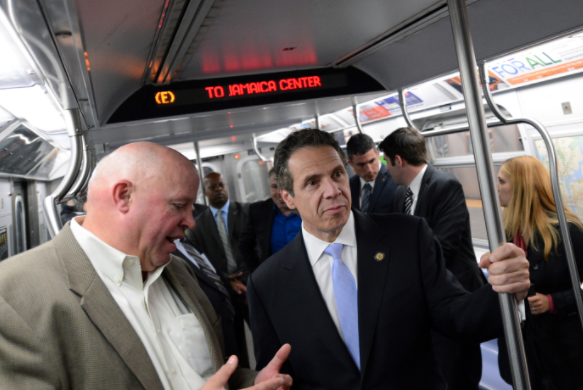 New York's most prominent Democrats sure do spend a lot of time quarreling with each other. In the last few days New Yorkers have been treated to feud flare-ups between former U.S. Attorney Preet Bharara and Governor Andrew Cuomo (D-NY) and also Cuomo and New York Mayor Bill de Blasio. In fact, the Cuomo-de Blasio feud has reached such prominence that it's now being cited as a reason for companies not to move to New York.
Since Bharara left his post, he's not shied away from taking shots at Governor Cuomo. For years, Governor Cuomo was in the sights of Bharara over both his shuttering of the Moreland Commission and Buffalo Billions misdeeds. Given that history, perhaps Cuomo should have refrained from highlighting Bharara's latest judicial setback from the 2nd Circuit:
"Gov. Cuomo just couldn't resist taking the cheap shot — no matter how bad it makes him look… But Cuomo chose to take aim at the guy who'd won those convictions: former US Attorney Preet Bharara. 'Fighting government corruption is right,' the governor said. But 'if you're using the legal system to quote unquote reform government, you have to do it legally.'"
Bharara was quick to fire right back at Governor Cuomo's many ethical and gubernatorial failings, saying he'd welcome Cuomo on his new podcast to discuss "ethics, Moreland, subway."
Governor Cuomo's capacity to pick fights with other Democrats, however, was not exhausted by his back and forth with Bharara. This week, he's managed to also get into a disagreement with "frequent sparring partner, Mayor Bill de Blasio" over hospital funding:
"The governor's initial response, however, was less than encouraging. In his statement on Friday, Mr. Cuomo suggested that the city — run by his frequent sparring partner, Mayor Bill de Blasio — should help make Health + Hospitals whole… That sentiment drew a rebuke from the mayor's office, which said the city was already contributing $1.8 billion this fiscal year."
The common factor in both of these fights being Governor Cuomo, proves once again that some things never change.
Keep tabs on the Democrats. Sign up for news.
Keep tabs on the Democrats. Sign up for news.