Bernie Sanders Continues To Cause Problems For The Democratic Party
Senator Bernie Sanders (I-VT) has always had a complicated relationship with the Democratic Party. During the disastrous "Unity Tour," Sanders embarrassed DNC Chairman Tom Perez when he flatly stated that he doesn't even consider himself a Democrat. In an interview with Vice, Sanders continued his streak of antagonizing the Democratic Party. No issue has divided […]
August 30, 2017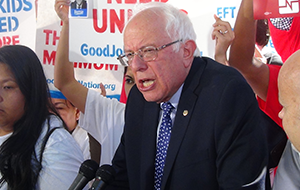 Senator Bernie Sanders (I-VT) has always had a complicated relationship with the Democratic Party. During the disastrous "Unity Tour," Sanders embarrassed DNC Chairman Tom Perez when he flatly stated that he doesn't even consider himself a Democrat.
In an interview with Vice, Sanders continued his streak of antagonizing the Democratic Party. No issue has divided the party more this year than Sanders' continued instance on a litmus test on the issue. In this interview, Bernie notably refused to deny he'd primary Democrats who flunked his single-payer litmus test:
"Asked later whether he'd go as far as mounting primary challenges to Democratic incumbents who don't back Medicare for All, Sanders dodged the question. 'That's political gossip, in which I'm not particularly interested,' he said."
Yesterday, Talking Points Memo reported that the Democratic Party is also dealing with a glut of candidates running for Congress:
"According to data pulled together by the NRCC, there are six or more declared Democrats in 10 of their top 43 defensive seats, while just four have only one Democratic candidate. The average competitive race has four declared Democrats, though some are much more serious than others."
When you combine the sheer number of Democrats running for Congress with Sanders' dodge, Democrats have a major problem on their hands. The Democratic Party already faced a number of costly primaries next year. Now Sanders' new comments makes that problem significantly worse.
Keep tabs on the Democrats. Sign up for news.
Keep tabs on the Democrats. Sign up for news.