Bernie Sanders is the NRA's Favorite Democrat Running for President
Bernie Sanders has a long history of supporting pro-gun policies in the House of Representatives and the Senate.
May 6, 2019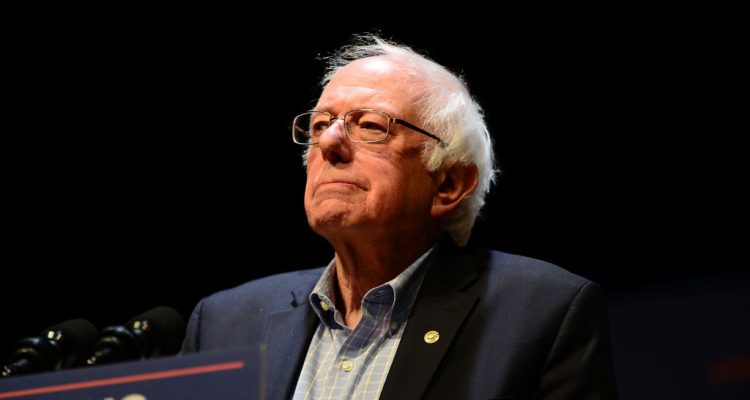 Bernie Sanders' record on guns is not going away in the Democratic primary. Sanders has a long history of supporting pro-gun policies in the House of Representatives and the Senate. Activists took notice in 2016, and they're certainly taking notice in 2020.
Gun control activist Sandy Phillips: "He's not good on guns. People who are in this issue know that."
Phillips referring to the 2005 gun manufacturer immunity law Sanders supported: "It's not something we're going to forget"
Activists' criticisms of Bernie aren't limited to just the 2005 immunity law. Shannon Watts, the founder of Moms Demand Action, tweeted that gun violence prevention is "the one issue on which Bernie Sanders has historically sided with lobbyists and not with Democrats." Watts also noted that Bernie did not include the issue in his launch video.
Bernie's past record on guns isn't just creeping into the Democratic electorate's conscious now. He had trouble keeping his beliefs consistent in the 2016 primary:
In early 2016, days before the Iowa caucuses, Sanders, a Vermont independent, announced he would co-sponsor a repeal of the law as he faced criticism over his position. Weeks later, he contradicted himself, saying gun crime victims should not be able to sue — only to reverse course again days later during a debate by saying, "They have the right to sue."
As recently as in an interview with Vermont Public Radio in February 2018, Bernie had trouble explaining what the definition of an "assault weapon" was in a bill he co-sponsored that would ban "assault weapons."
Another specific gun control policy that has haunted Bernie for decades is his previous opposition to universal background checks. In 1993, Bernie voted against the Brady Handgun Violence Prevention Act, which would have set up background checks at the federal level.
A Vox.com analysis of his record notes that while today's gun control debate largely revolves around expanding background checks, Bernie voted against establishing the system activists now want to expand.
The story of Bernie and guns has an interesting start. Vox reports that Bernie's House candidacy in 1990 benefited from an NRA campaign against the opponent — the incumbent Republican — who had voted for the assault weapons ban. Bernie had previously supported the ban in 1988 and lost.
Bernie had no reservations with defending his gun control record during the 2016 primary. In July 2015, Sanders told CNN's Jake Tapper that he would like to bring people together on guns. He said that he wanted to see "serious debate and action on guns," but that simply won't happen since "we simply have extreme positions on both sides."
Leading up to the 2020 primary, Bernie has made a concerted public effort to strengthen his pro-gun control bonafides. NBC News found footage of Bernie attending two gun control rallies in March of 2018. He also met with current and former Parkland students who came to Washington in early 2018.
In terms of policy, Bernie has not been above moving to the left and embracing stricter gun control measures. Vox reports that Bernie has "co-sponsored bills to expand background checks, ban assault weapons, further prohibit domestic abusers from getting firearms, encourage the passage of "red flag" laws, restrict 3D-printed guns, and more."
Vox also notes that Sanders's presidential campaign has touted gun control during the primary, explicitly highlighting his support for an assault weapons ban and criticizing the NRA.
His shift is necessitated by the leftward sprint the Democratic electorate has taken on several issues, including guns. Gun control was the second most important issue for Democratic primary voters, according to exit polls during the 2018 midterms.
Keep tabs on the Democrats. Sign up for news.
Keep tabs on the Democrats. Sign up for news.