Bernie Sanders' Net Worth Makes Him a Millionaire
Since the financial documents have been made public, it is now known that Bernie Sanders has a net worth in the millions of dollars.
February 1, 2020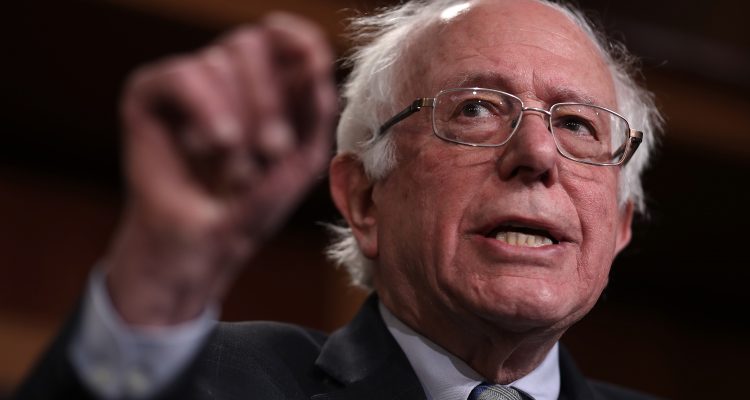 2020 White House hopeful and Vermont Senator, Bernie Sanders has recently released his tax returns. Since the financial documents have been made public, it is now known that Sanders has a net worth in the millions of dollars. Since his 2016 bid for President, Sanders has become increasingly wealthy. In a recent New York Times interview, Sanders stated, "I wrote a best-selling book. If you write a best-selling book, you can be a millionaire, too."
Business Insider detailed Sanders' wealth:

"The Vermont senator is worth as much as $2 million, according to the financial website The Street — although his exact wealth is unknown."


"Sanders earns a yearly salary of $174,000 as a senator, and his total reported assets were less than $750,000 in 2015. But he earned more than $1 million in both 2016 and 2017, primarily because of royalties from his books, financial-disclosure documents show."

Forbes estimates Bernie Sanders' net worth even higher at $2.5 million "from real estate, investments, government pensions—and earnings from three books.
Bloomberg also notes that Sanders' wealth has come from his books:

"Since then, Sanders has published three books, including "Our Revolution: A Future to Believe In" and has gone from a small-state senator with ideas mostly seen outside the mainstream, to one of the most recognizable politicians in the U.S."
However, Politico has examined the sources of Sanders' wealth, and found it's not just from selling books:
"Sanders' current financial portrait is not only some stroke-of-luck windfall. It's also the product (with the help of his wife) of decades of planning. The upward trajectory from that jalopy of his to his relative riches now—as off-brand as it is for a man who once said he had "no great desire to be rich"—is the product of years of middle-class striving, replete with credit card debt, real estate upgrades and an array of investment funds and retirement accounts."
Fortune Magazine called Sanders "the Six Figure Socialist" and noted that he is currently among the top 4 percent of earners in the United States. Sanders has received criticism and charges of hypocrisy for his lavish lifestyle. Sanders owns three different homes including a four-bedroom lake house on the shore of Lake Champlain in Vermont.
Politico summarized that "Sanders has become one of those rich people against which he has so unrelentingly railed. The champion of the underclass and castigator of "the 1 percent" has found himself in the socio-economic penthouse of his rhetorical bogeymen."
One Democratic strategist explained, "He became the very thing he criticized others for becoming and at the same time didn't fix any of the problems he's been railing about that got him to this point."
As a result, critics are now starting to question whether Sanders can effectively communicate with working class voters now that he is far more wealthy than the average American. According to the Washington Post:

"Think Progress, a liberal website, called Sanders's wealth "very off-brand and embarrassing." Sanders "obscures his wealth to relate to the 99 percent," the outlet wrote. Bloomberg News's editorial page congratulated Sanders "on being rich" and asked whether he would now modulate his proposals."


"Right-leaning outlets have used the news to mock the senator. Fox News wrote a piece called "lifestyles of the rich and socialist," detailing Sanders's real estate holdings."

According to CNN his new found wealth has not changed his socialist views, though:

"My view has always been that we need a progressive tax system which demands that the wealthiest people in this country finally start paying their fair share of taxes. If I make a lot of money, you make a lot of money, that is what I believe," Sanders added, defiant and plainly frustrated by the line of questioning. "So again, I don't apologize for writing a book that was number three on the New York Times best seller, translated into five or six languages and that's that."

In addition to questions about how his newfound wealth affects his liberal message, Business Insider detailed how Bernie Sanders gave relatively little to charity over the years:

"Like O'Rourke, Vermont Sen. Bernie Sanders gave relatively little to charity compared with other Americans, despite writing a book that made him a millionaire in 2016.


Sanders, who for years resisted releasing several years of his tax returns, earned $1,073,333 but gave $10,600 to charity — or just less than 1% of his income. Based on 2014 IRS data, people who made more than $1 million that year took an average charitable deduction of $382,953, or 5.6% of their income.


Sanders' campaign said that proceeds from his 2012 book, "The Speech," are donated to charity and not reflected in his returns.


Sanders boosted his charitable giving in the years since 2016, giving 3.4% of his adjusted gross income in 2018 and 3% in 2017."

However, according to the Washington Examiner, Sanders' opposition to charitable giving is consistent with statements he made in 1981:

"Sanders really meant what he said in 1981 when he told attendees at a local United Way fundraiser in Vermont, "I don't believe in charities." Sanders, then serving as mayor of Burlington, "went on to question the 'fundamental concepts on which charities are based' and contended that government, rather than charity organizations, should take over responsibility for social programs," according to a contemporaneous report from the New York Times."

Despite his current answer to questions of hypocrisy related to his newfound wealth, Bernie Sanders hasn't always held millionaire Senators in such high regard. In 1971, as a candidate for U.S. Senate in Vermont, Bernie said it was "immoral that half the members of the Senate we millionaires." Per CNN's KFile:
"Sanders made the comments when he was running for US Senate at the time under the banner of the Liberty Union Party, a self-described "radical political party" that advocated nationalization of industries and redistribution of wealth to tackle inequality."
Sanders also "proposed eliminating the annual salary of members of Congress (which was $42,500 in 1971) and instead replacing their pay with whatever the average income was in their home state." Clearly, his thoughts on capitalism and the financial assets of public servants have changed as he's leveraged capitalism for some of his own.
Keep tabs on the Democrats. Sign up for news.
Keep tabs on the Democrats. Sign up for news.