Bill Nelson's Bad Week
Florida Democratic Senator Bill Nelson had a rough week. In an interview with the Tampa Bay Times, Nelson said that Russia had infiltrated Florida's election system. Yet, had no evidence to back up his statement. Today, the Sarasota Herald Tribune editorial board called on Nelson to provide evidence for these serious allegations: "On Thursday, we […]
August 10, 2018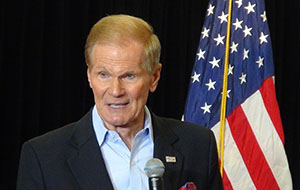 Florida Democratic Senator Bill Nelson had a rough week. In an interview with the Tampa Bay Times, Nelson said that Russia had infiltrated Florida's election system. Yet, had no evidence to back up his statement. Today, the Sarasota Herald Tribune editorial board called on Nelson to provide evidence for these serious allegations:
"On Thursday, we asked Nelson's office to provide details. His spokeswoman provided a statement and referred us to the July 2 letter as well."

"'As Sen. Rubio and I wrote in our letter to the 67 county supervisors of elections, the threat is real and elections officials — at all levels — need to address the vulnerabilities,' Nelson said in the statement."

"Sorry, Sen. Nelson, that's not good enough. In fact, it's unacceptable."
In addition, Nelson tried to attack Governor Rick Scott for delaying EPA water quality standards surrounding the algae bloom issue, but it turned out Nelson wrote the EPA asking them to delay those same standards. When questioned about the attack Nelson said, "he did not recall writing it and said he would have to look into its origins."
Nelson's week of missteps were summarized yesterday on Meet the Press Daily:
MTP Daily host Chuck Todd put it succinctly:
"Florida is prime opportunity for Republicans to pick up a Senate seat in November, Bill Nelson needs to be playing error free ball against a billionaire. This week he had two unforced errors."
Keep tabs on the Democrats. Sign up for news.
Keep tabs on the Democrats. Sign up for news.