Boston Globe A1: "Elizabeth Warren's Native American Problem" Grows
Senate Democrats' decision to shut down the government rightfully dominated the political discussion this weekend. Yet, political observers looking toward 2020 know that perhaps the biggest political story of the weekend was the Boston Globe's in-depth look at "Elizabeth Warren's Native American problem." As the Globe details, Senator Warren's "enduring and undocumented claims of Native […]
January 22, 2018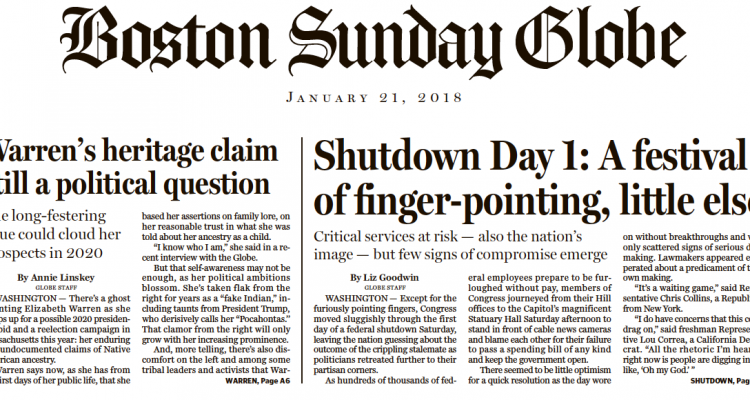 Senate Democrats' decision to shut down the government rightfully dominated the political discussion this weekend. Yet, political observers looking toward 2020 know that perhaps the biggest political story of the weekend was the Boston Globe's in-depth look at "Elizabeth Warren's Native American problem."
As the Globe details, Senator Warren's "enduring and undocumented claims of Native American ancestry" are prompting a growing anger toward the Massachusetts Senator from people "on the left":
"And, more telling, there's also discomfort on the left and among some tribal leaders and activists that Warren has a political blind spot when it comes to the murkiness surrounding her story of her heritage, which blew up as an issue in her victorious 2012 Massachusetts Senate race. In recent months, Daily Show host Trevor Noah mocked her for claiming Native American ancestry and the liberal website ThinkProgress published a scathing criticism of her by a Cherokee activist who said she should apologize."
Senator Warren's false claims have also led to a backlash against Warren by Native Americans who feel she's done nothing for their communities, including apologize:
"If Warren seeks to tackle the issue, there are no easy options. Some tribe members want her to apologize to Native Americans for claiming heritage without solid evidence. Tribes across America have spent centuries denouncing whites who claim Indian DNA without a clear basis, claims they find deeply offensive. Another path includes pursuing stronger outreach to the tribes with whom she claims to share kinship, a strategy that she's begun to employ. This too is fraught, as some Native American leaders are resentful that she's done, in their estimation, little to help tribes as a powerful senator. 'She's not part of the Cherokee community,' said Chad Smith, who was the principal chief of the Oklahoma-based Cherokee Nation from 1999 to 2011. 'She hasn't reached out. She hasn't come here and participated much.'"
Most importantly, the Globe emphasizes that there is a strong belief that Senator Warren claimed Native American heritage for professional advancement:
"Warren also listed herself as a minority in a legal directory published by the Association of American Law Schools from 1986 to 1995. She's never provided a clear answer on why she stopped self-identifying. She was also listed as a Native American in federal forms filed by the law schools at Harvard University and University of Pennsylvania where she worked. And in 1996, as Harvard Law School was being criticized for lacking diversity, a spokesman for the law school told the Harvard Crimson that Warren was Native American."
Fundamentally, Senator Warren's claims to Native American heritage are a question of character. If Senator Warren would lie about her family history to advance her academic career, what other unethical actions would she be willing to do to get elected president?
Keep tabs on the Democrats. Sign up for news.
Keep tabs on the Democrats. Sign up for news.