Cuomo And De Blasio's Poor Records Dampen Their 2020 Ambitions
As the New York Times detailed today, Governor Andrew Cuomo and Mayor Bill de Blasio are just two of the many New York area politicians eying a 2020 presidential run. Yet, as other news stories today make clear, they both have major problems already that would prevent their presidential runs from taking off. First, Governor […]
December 19, 2017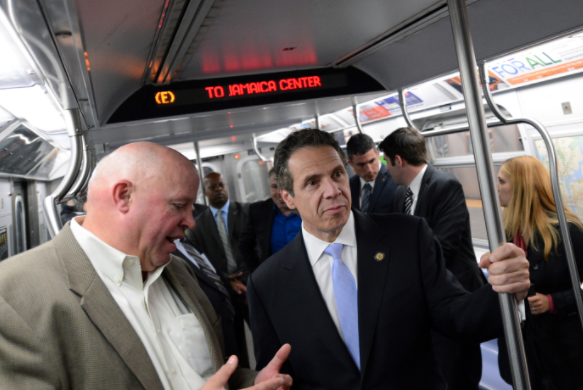 As the New York Times detailed today, Governor Andrew Cuomo and Mayor Bill de Blasio are just two of the many New York area politicians eying a 2020 presidential run. Yet, as other news stories today make clear, they both have major problems already that would prevent their presidential runs from taking off.
First, Governor Cuomo's poor handling of a question about sexual harassment has reopened inquiries about his handling of the issue:
"For Gov. Cuomo, his prickliness last week at a female reporter asking a question about sexual harassment in state government should be a case study for male politicians on how not to handle the hot-button issue — and could come back to haunt him, Democratic operatives say. 'It raises questions about his thin skin and whether he is battle-tested for a national run,' said one insider."
One New York Democrat told the New York Daily News that the video of Governor Cuomo's answer "will be used by future" political opponents.
Like Cuomo, Mayor de Blasio's poor tenure in New York will shadow his future political campaigns. In fact, it's followed him all the way to Iowa. The New York Times reported today that the PBA is protesting his trip there today.
Also shadowing de Blasio during his time in Iowa today will be New York City police officers protesting his trip:
"Mayor Bill de Blasio's police detail won't be the only officers from the New York Police Department in Iowa on Tuesday. New York's biggest police union, the Patrolmen's Benevolent Association, is sending about a dozen officers to protest Mr. de Blasio in Des Moines, where he is headed to burnish his image on the national stage."
Governor Cuomo and Mayor de Blasio have both tried to make themselves into national political figures. Yet, their failures in New York will haunt their attempts to accomplish that goal.
Keep tabs on the Democrats. Sign up for news.
Keep tabs on the Democrats. Sign up for news.