Democratic Leaders Keep Playing Politics With Vital Tax Reform Effort
Yesterday, Senate Minority Leader Chuck Schumer and House Minority Leader Nancy Pelosi kept up their appalling act of playing politics with tax reform. At a press conference at the Democratic National Committee, both Schumer and Pelosi bragged about how their fight against tax reform could pay political dividends for them next year: "Warning of tax […]
November 14, 2017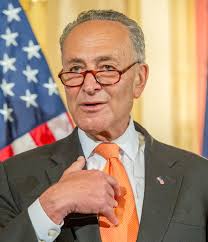 Yesterday, Senate Minority Leader Chuck Schumer and House Minority Leader Nancy Pelosi kept up their appalling act of playing politics with tax reform. At a press conference at the Democratic National Committee, both Schumer and Pelosi bragged about how their fight against tax reform could pay political dividends for them next year:
"Warning of tax increases on millions of middle-class families, Capitol Hill's top Democrats said Monday that the Republicans' tax-code overhaul is a political 'gift' to the Democrats — but one they don't want. In an eleventh-hour campaign to sink the Republicans' tax package, Senate Minority Leader Charles Schumer (D-N.Y.) and House Minority Leader Nancy Pelosi (D-Calif.) all but dared GOP leaders to pass the tax package, saying it would help the Democrats pick up seats in both chambers next year."
Senator Schumer went as far as saying the tax reform effort was a "lose-lose situation" for Republicans:
"Schumer characterized the tax bill as a 'lose-lose' situation for the Republicans, promising to use the votes as a campaign bludgeon, whether the bill passes or not. 'If they fail to pass it, they lose with their donors and the hard right; if they succeed, the political fallout will be catastrophic,' he said."
Democrats are so desperate that they've been resorting to blatant lies to try and defeat Congressional Republicans' tax reform push. The fact that Senator Schumer would spout this sort of nonsense too, in public no less, partly explains why his party is out of power right now.
Keep tabs on the Democrats. Sign up for news.
Keep tabs on the Democrats. Sign up for news.