DNC Turmoil Continues Under Tom Perez's Inept Leadership
Ever since Tom Perez barely beat Congressman Keith Ellison for the Chairmanship of the Democratic National Committee, he's bumbled from one public relations crisis to another. Fundraising is perhaps the most important job of a party committee, and now The Hill reports that Perez's bungling extends to that as well. Through the first half of […]
August 17, 2017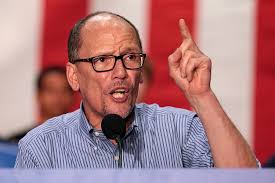 Ever since Tom Perez barely beat Congressman Keith Ellison for the Chairmanship of the Democratic National Committee, he's bumbled from one public relations crisis to another. Fundraising is perhaps the most important job of a party committee, and now The Hill reports that Perez's bungling extends to that as well.
Through the first half of the year the DNC has been outraised significantly by the RNC, creating a "serious money gap" between the two party committees:
"Months of post-election malaise hamstrung the Democratic National Committee's (DNC) fundraising over the first six months of 2017, creating a serious money gap with Republicans and raising questions about Democrats' ability to take advantage of opportunities in the 2018 midterms.  The DNC raised $38.2 million in the first half of the year, compared with the Republican National Committee's (RNC) $75.4 million haul during that period — a $37.2 million difference. As of June 30, the RNC has almost $45 million in the bank, while the DNC has just under $7.5 million, along with $3 million in debt."
Perez's poor fundraising has prompted many Democrats to complain about the job he's doing. One Democrat told The Hill that Perez's performance has been "deeply problematic" so far. The DNC's lackluster performance can also be attributed to the hard feelings many Bernie Sanders supporters still hold against the institution:
"On the other end of the spectrum, many progressive supporters of Sen. Bernie Sanders's (I-Vt.) presidential bid are still smarting from the revelation that top DNC figures were biased against Sanders throughout the primary."
If Perez keeps doing as bad of a job as he's done these first months, he might one day rival Debbie Wasserman Schultz in the annals of worst party chairperson ever.
Keep tabs on the Democrats. Sign up for news.
Keep tabs on the Democrats. Sign up for news.