Donnelly Kickoff Marred By Shadow Of Outsourcing Hypocrisy
This morning, Senator Joe Donnelly (D-IN) officially launched his Senate re-election campaign. This was a critical event for Senator Donnelly because he's still struggling to overcome the devastating Associated Press report last month that showed that the Indiana Democrat had made tens of thousands of dollars investing from outsourcing Indiana jobs. The Associated Press' blockbuster […]
August 21, 2017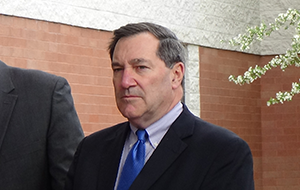 This morning, Senator Joe Donnelly (D-IN) officially launched his Senate re-election campaign. This was a critical event for Senator Donnelly because he's still struggling to overcome the devastating Associated Press report last month that showed that the Indiana Democrat had made tens of thousands of dollars investing from outsourcing Indiana jobs.
The Associated Press' blockbuster scoop has been a massive problem for Donnelly because it's established his rank hypocrisy in the minds of Indiana voters on this critical issue:
"Donnelly has long blasted free-trade policies for killing American jobs and accused furnace and air conditioning giant Carrier Corp. of exploiting $3-an-hour workers when it announced plans last year to move manufacturing jobs from Indiana to Mexico. Donnelly said last month that he was selling his stock in his family's arts and crafts company after The Associated Press reported it manufactures dye for ink pads in Mexico. In a financial disclosure form filed in May, Donnelly reported owning as much as $50,000 of stock in Stewart Superior Corp. and earning between $15,001 and $50,000 in dividends on it during 2016 alone."
Donnelly's campaign has made sure that kickoff stories have included the detail that his campaign RV is "Indiana-made." However, Indiana voters know that when it came to Donnelly's personal fortune, he had no problem cashing outsourcing checks.
Keep tabs on the Democrats. Sign up for news.
Keep tabs on the Democrats. Sign up for news.