Elizabeth Warren's Setback-Filled Week
Senator Elizabeth Warren has attempted to spend this year positioning herself atop the Democratic Party hierarchy. This week saw numerous reversals for that ambitious goal. First, Senator Warren's politicization of the Consumer Financial Protection Bureau was dealt a grievous blow when a federal judge ruled ruled against her ally, Richard Cordray, and his hastily-picked successor […]
December 1, 2017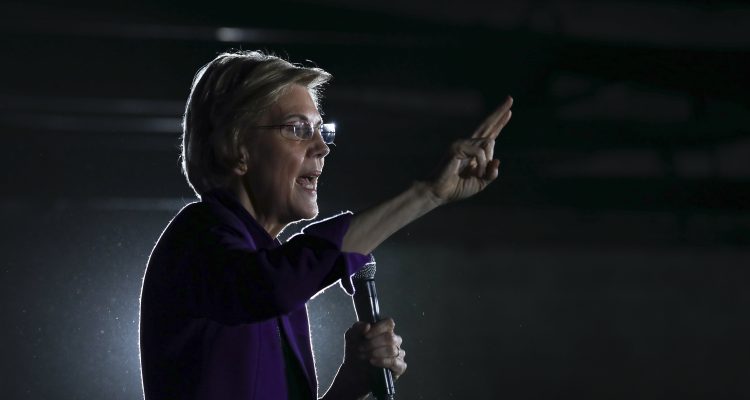 Senator Elizabeth Warren has attempted to spend this year positioning herself atop the Democratic Party hierarchy. This week saw numerous reversals for that ambitious goal.
First, Senator Warren's politicization of the Consumer Financial Protection Bureau was dealt a grievous blow when a federal judge ruled ruled against her ally, Richard Cordray, and his hastily-picked successor Leandra English. This was a especially big setback for Warren since she's so closely associated with the CFPB and took time for a photo-op with English earlier this week:
English, who met with Warren yesterday at the Capitol, filed a lawsuit to stop Mulvaney from taking over, but a federal judge — who was recently appointed by Trump — declined to rule immediately on her request for a temporary restraining order.
Second, Senator Warren's week was significantly derailed by the renewed controversy over her fake claims to Native American heritage. Most notably, Think Progress published an op-ed by Native American writer Rebecca Nagle that excoriated Senator Warren for the harm her heritage claims has caused actual Native Americans:
"Warren's misrepresentation of her heritage has major consequences for Native Americans, who have little visibility not only in politics, but in American culture at large. Warren's claims of Cherokee identity make her the only representation of Cherokees that the average American will likely ever see."
The damage done by these and other criticisms of Warren reached maximum visibility on Comedy Central's The Daily Show. The Daily Show devoted over five minutes to Trevor Noah's negative comments about Warren, something that will have a real impact with the show's overwhelmingly liberal viewers.
The Democratic field could be historically large in 2020. While many prognosticators see Senator Warren as a top tier candidate, weeks like this one should have them reevaluating that assessment.
Keep tabs on the Democrats. Sign up for news.
Keep tabs on the Democrats. Sign up for news.