Even Vox Agrees, Democrats Are The Ones Pushing For A Government Shutdown
With less than 12 hours until the government shuts down, one thing has become manifestly clear: Senate Democrats are the ones pushing for a government shutdown. This has always been the case, but it's become so overwhelmingly obvious this week that even the liberal website Vox is acknowledging this reality: "All of a sudden, Senate […]
January 19, 2018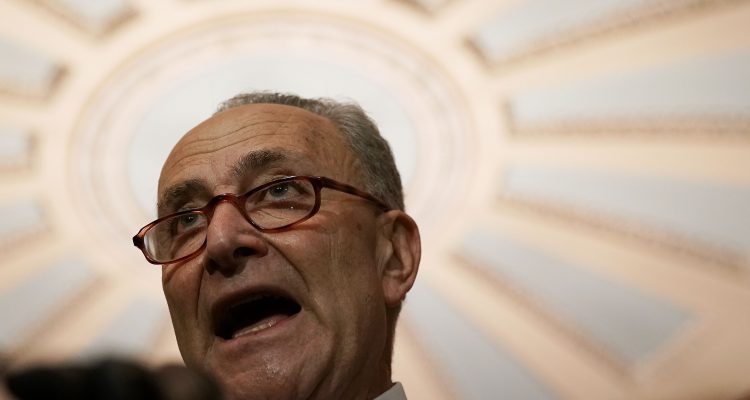 With less than 12 hours until the government shuts down, one thing has become manifestly clear: Senate Democrats are the ones pushing for a government shutdown. This has always been the case, but it's become so overwhelmingly obvious this week that even the liberal website Vox is acknowledging this reality:
"All of a sudden, Senate Democrats are looking ready to shut down the government over immigration. After months of fruitless negotiations over helping to get legal status for the hundreds of thousands of immigrants protected by the Deferred Action for Childhood Arrivals program — something President Trump and Speaker Paul Ryan have both claimed to want — they seem to have had enough… Dozens of Senate Democrats have said they are withholding their votes from any government funding bill that doesn't address DACA. If they hold firm, the federal government will shut down at midnight Friday."
While Democrats will try to spin away their culpability, Vox points out that using a government shutdown to enact their ideological agenda has been the Democrats' plan "for months":
"For months, pro-immigrant and organizing-focused activists on the left have argued that Democrats needed to fight harder to help DACA recipients — by refusing to vote to fund the government unless that help were included. And in recent days, most Democrats in both the House of Representatives and the Senate have been persuaded to take that stance. In general, they think these hardball tactics will make a deal more likely, for some combination of the following reasons."
The American people, like Vox, will see the Democrats' responsibility for any shutdown and punish them politically for it.
Keep tabs on the Democrats. Sign up for news.
Keep tabs on the Democrats. Sign up for news.