Ex-Blue Dog With Presidential Ambitions Now Finds Inspiration in Warren and Sanders
These days, it seems as though 2020 hopefuls just can't get close enough to Bernie Sanders. Recent additions to his fanciful "Medicare for All" bandwagon include Senators Cory Booker (D-NJ), Kamala Harris (D-CA), and Tammy Baldwin (D-WI). Senator Kirsten Gillibrand (D-NY) had previously supported an expanded 'buy-in' option for Medicare, but she beat her ambitious […]
September 18, 2017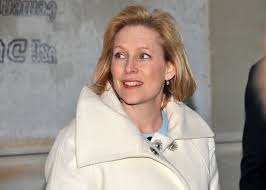 These days, it seems as though 2020 hopefuls just can't get close enough to Bernie Sanders. Recent additions to his fanciful "Medicare for All" bandwagon include Senators Cory Booker (D-NJ), Kamala Harris (D-CA), and Tammy Baldwin (D-WI). Senator Kirsten Gillibrand (D-NY) had previously supported an expanded 'buy-in' option for Medicare, but she beat her ambitious colleagues to the punch this past June when she lurched to the left, affirmatively declaring her support for a radical single-payer option.
The temptation of a giant media market, expansive donor base, and opportunity to build a national profile ahead of the next presidential election appears to have gotten the better of our fair weather friend in the Empire State. In the wake of the Democratic Party's struggles to find their way after the last election, for example, many Democrats have been unable to answer or have become downright hostile to simple questions about who represents the Democratic Party these days. Not Kirsten. Undoubtedly hoping to score points with her new liberal pals, she immediately named Senators Bernie Sanders and Elizabeth Warren when asked on CNN this morning:
Since taking Hillary Clinton's vacated Senate seat in 2009, Gillibrand has worked diligently to shed the solidly centrist credentials she built for herself in the House. Seemingly in the blink of an eye, Gillibrand reversed her strong positions on immigration and the Second Amendment. We're even old enough to remember when Gillibrand was considered to be a part of the conservative 'Blue Dog' Coalition!
While her opportunism isn't a surprise to us, she sure seems to have spooked a fellow New Yorker with his eye on the White House…
Keep tabs on the Democrats. Sign up for news.
Keep tabs on the Democrats. Sign up for news.