Huh? Menendez Actually Claims He's Never Dishonored His Public Office
Senator Robert Menendez's (D-NJ) corruption and bribery trial started today in Newark, and before Senator Menendez's trial started he took time to address the cameras, stating that "not once have I dishonored my public office":: Senator Menendez's delusional statement is not backed up by the details of the case against him. If Senator Menendez doesn't […]
September 6, 2017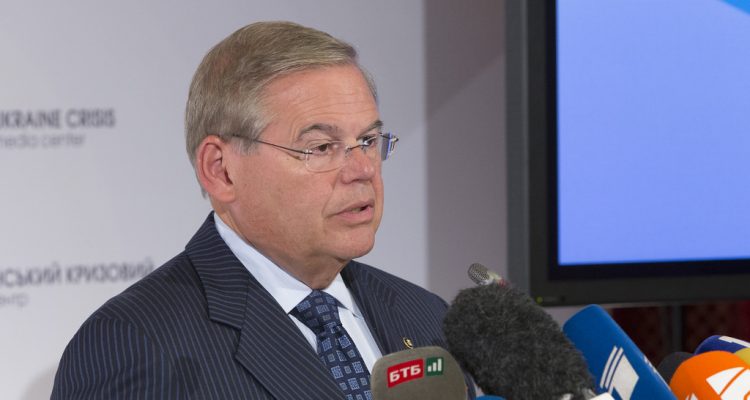 Senator Robert Menendez's (D-NJ) corruption and bribery trial started today in Newark, and before Senator Menendez's trial started he took time to address the cameras, stating that "not once have I dishonored my public office"::
Senator Menendez's delusional statement is not backed up by the details of the case against him. If Senator Menendez doesn't think accepting hundreds of thousands of gifts in exchange for using his influence isn't dishonorable, it's a good thing he's on trial. During the opening of the prosecution's case, they laid out the many different instances when Menendez "sold his Senate office for a life of luxury," adding that Menendez's interactions with Salomon Melgen are "what bribery looks like":
"'Robert Menenedez is only one of two senators reaping NJ in Senate. He's a powerful man. He didn't get enjoy spoils of wealth for nothing. He paid for it by using the power of his public office to advance the political interests of [Melgen],' Koski said. 'Menendez went to bat for doctor Melgen to the highest levels of our federal government for many years … because doctor Melgen gave senator Menendez access to a life that reads like a travel brochure for the rich and famous. This is what bribery looks like,' Koski added."
The details of the case against Senator Menendez bare out this description. Before they were caught, Menendez accepted a tremendous amount of gifts, without reporting them:
"In exchange, the former chair of the senate foreign relations committee is accused of accepting several private plane flights to a Caribbean resort, other gifts such as a luxury Paris hotel stay and a bounty of campaign donations, according to the indictment. The physician, who was also indicted, even contributed $40,000 to the politician's legal defense fund involving a recall issue."
In exchange, Menendez gave Melgen the power of his Senate office:
"In a sprawling indictment filed in the 61-year-old senator's home state, federal prosecutors say Menendez illegally peddled his political influence to help his pal with both business and personal concerns – in exchange for nearly $1 million in gifts and donations."
While Senator Menendez has tried to explain away his indictment by saying he and Melgen were friends, the facts show he "sold his office for a lifestyle he couldn't afford." That looks plenty dishonorable to us.
Keep tabs on the Democrats. Sign up for news.
Keep tabs on the Democrats. Sign up for news.